Description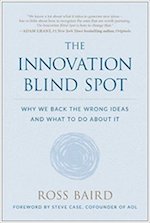 Please join LearnLaunch, as well as Ross Baird, the founder of Village Capital, to discuss Ross' new book: The Innovation Blind Spot: Why We Back the Wrong Ideas--And What to Do About It. We'll have lunch and discussion with Ross, and talk about what's broken in our innovation economy, highlight how emerging solutions and organizations such as LearnLaunch are helping build the world we want to live in.
About The Innovation Blind Spot
While big companies in the American economy have never been more successful, entrepreneurial activity is near a 30-year low. More businesses are dying than starting every day. Investors continue to dump billions of dollars into photo-sharing apps and food-delivery services, solving problems for only a wealthy sliver of the world's population, while challenges in health, food security, and education grow more serious.
In The Innovation Blind Spot, entrepreneur and venture capitalist Ross Baird argues that the innovations that truly matter don't see the light of day—for reasons entirely of our own making. A handful of people in a handful of cities are deciding, behind closed doors, which entrepreneurs get a shot to succeed. And most investors are what Baird calls "two-pocket thinkers"—artificially separating their charitable work from their day job of making a profit.
With a foreword from AOL co-founder Steve Case, Ross outlines what's wrong with our innovation economy--and how to fix it.
Advance praise for The Innovation Blind Spot
"We know a lot about what it takes to generate new ideas—but so little about how to recognize the ones that are worth pursuing. The Innovation Blind Spot is here to change that. It's a terrific read, with vivid data and memorable examples to help you stop betting on flops and spot the hits hiding right under your nose. —Adam Grant, New York Times bestselling author of Originals and Give and Take
"Every entrepreneur with a great idea should have a fundamental right to start a business. But today, far too many barriers in society prevent the best people from competing. In this book, Ross outlines compelling strategies to find the best innovations—no matter where they are." —Wendy Guillies, president and CEO, Ewing Marion Kauffman Foundation
"In this time of seismic shifts, our businesses, our governments, and our communities need to work together for our society to succeed—and we need new ideas to get there. Baird identifies the outliers that no one's betting on, and compellingly outlines how we can bring them into the mainstream." —Governor Deval L. Patrick, managing director, Bain Capital Double Impact
"Every single city and community has the power to change the world. But to realize that power, we have to find the ideas and entrepreneurs that people aren't paying attention to. In The Innovation Blind Spot, Ross shows us how to do just that." —Brad Feld, co-founder, Foundry Group, and author of Startup Communities
"There's a myth that the innovation economy is a meritocracy, but unfortunately your background and your network still play a huge role in success. Ross makes a compelling case for how we can access the untapped potential in our innovation economy." —Donna Byrd, founding publisher of The Root and vice president of Digital Media at Univision Communications
About the Author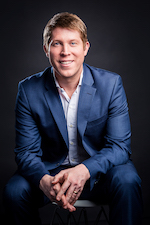 Ross is the founder and CEO of Village Capital, a unique investment firm that finds, supports, and invests in entrepreneurs solving real-world problems globally. Since 2009, Village Capital has supported over 600 ventures worldwide through its peer review model. To date, Village Capital entrepreneurs have created over 11,000 jobs and served over 5 million customers.

Before launching Village Capital, Ross worked with First Light Ventures, a seed fund focused on impact investments. Prior to First Light, Ross worked on the development of four education-related start-up ventures: the Indian School Finance Company in Hyderabad, India, the National College Advising Corps in Chapel Hill, North Carolina, and two ventures using technology to promote civic participation. He has a MPhil from the University of Oxford, where he was a Marshall Scholar, and a BA from the University of Virginia, where he was a Truman Scholar and a Jefferson Scholar.