Book Publishing Workshop: 10 Step Process to Write and Publish a Book
Book Publishing Webinar, provide writers and entrepreneurs a step-by-step process on how to write, market & publish a book in 90 days.
About this event
Publish Your Book Today: Master the 10 Step Process of How to Write, Market and Publish Your Book FAST!
Register Now: https://bookpublishingjan22.eventbrite.com
By the end of this workshop you will learn how to:
Get published in 90-days or less
Understand all aspects of the publishing industry
Publish e-books, children's books, poetry and training manuals
Clearly understand the Book Publishing Process
Write a Best Selling Book
Manufacture and organize your book
Use the "FREE" Resources to help you publish your book
Select the right editor, printer, publisher and book cover designer
Publish and print 100 books for under $300.00
Sell 100 books in less than 100 days
The goal of this Webinar is to:
Understand the Book Publishing Process
Write a GREAT Book
Tap into the many resources to help you launch your book
Get your book on the market in 90-days or less
You will leave the workshop with a sample of your book
Dates: Monday, January 24, 2022
Time: 6:00 PM to 7:30 PM (CDT)
Location: Zoom
Other Options:
1. Attend on Zoom. You can attend the training from the comfort of your home. Once you register you will receive a Zoom link and all of the materials.
2. Training Program. Receive the recording and the materials so you can watch the training where ever you want to .
The first 10 people to register will receive a FREE Book Publishing Tool Kits: Includes
1. Workbook: The Self-Publishing Process: The Beginner's Guide to Book Publishing Success.
2. Copies of contracts and vendor list of industry experts to help you publish your book.
3. Book Publishing Journal.
4. Book Publishing Resource Guide which includes all of the resources Renee has used to publish books.
5. One- 30 minute1-on-1 Book Publishing Coaching Session with "The Book Publishing Lady" Renee Bobb.
Four ways to register:
1. Online: https://bookpublishingjan22.eventbrite.com
2. Call (615) 753-56473.
3. Email bookpublishinglady@gmail.com
4. www.BookPublishingLady.com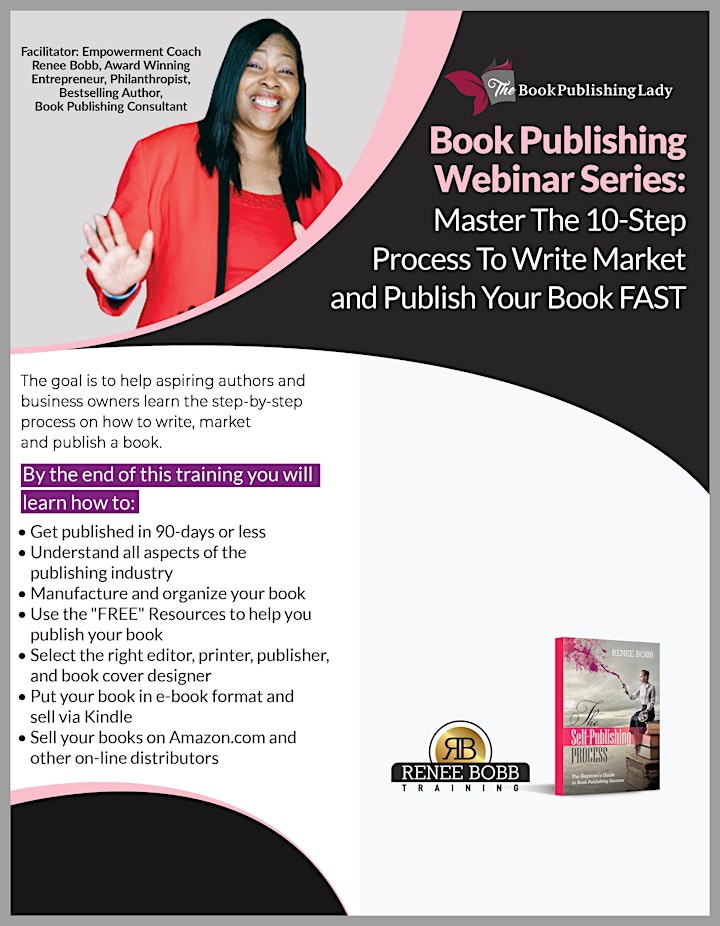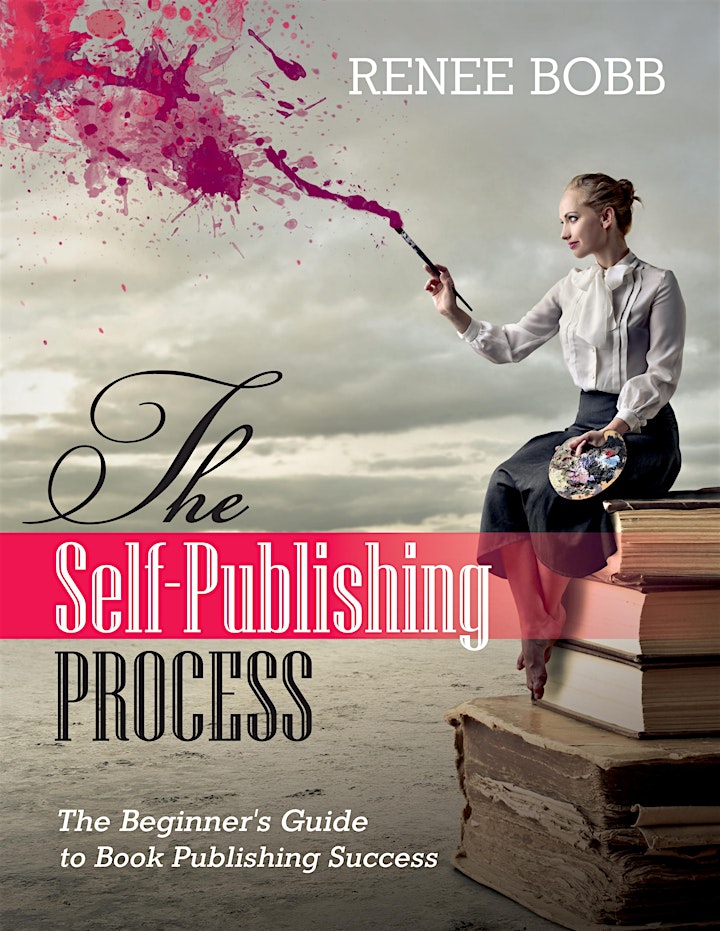 Organizer of Book Publishing Workshop: 10 Step Process to Write and Publish a Book
About Business Coach Renee Bobb
Philanthropist, Bestselling Author, Business Coach and Trainer
Renee Bobb is an authority in the field of self-publishing and small business development. Her company, Renee Bobb Training LLC (https://ReneeBobbTraining.com), is an Empowerment Training and Development Firm, specializing in Career Empowerment, Small Business Development, Financial Empowerment and Book Publishing Training (https://BookPublishingLady.com). At the present time, Renee teaches the Nashville Book Publishing Workshop which has helped over 3,000 aspiring authors to write, market and publish their own books.

Renee is an award-winning entrepreneur and a Bestselling Author. Renee has published 16 non-fiction books including: Financial Empowerment: A Practical Approach to Getting Your Financial Life in Order and her top seller, The Self-Publishing Process: The Beginner's Guide to Book Publishing Success.

Over the past two years Renee has worked with Bunker Labs and the role of Training and Development Manager under her own company. She spearheaded Bunker Labs Diversity, Equity, and Inclusion Leadership Team. Renee also created the Black Veteran Entrepreneur Workshop Series, an 8-week training course to empower military Veterans and their families to start and expand their own businesses.

One of the highlights of Renee's career is serving in the United States Navy as a Telecommunications Operator. Over the past seven years Renee has worked with Military Veterans within the VA Hospitals teaching them Financial Empowerment and Money Management classes.

Renee has a passion for the game of basketball. As the owner of the Music City Icons Professional Women's Basketball Team, Renee desires to help women get a second chance at a basketball career. Her team is a feeder to the WNBA and International Basketball Teams. (www.MusicCityIcons.com).

Renee is a graduate of Norfolk State University and holds B.S. Degree in Interdisciplinary Studies with a concentration in Business Administration, Marketing and Social Work. She is a member of Zeta Phi Beta Sorority Incorporated.