Description
Clear your calendar - It's going down at a private location! You're invited to take part in the birthday and launch festivities for Taaj. This is going to be epic!
7 pm - 8 pm Dinner and Conversation
8 pm - 8:45 pm Greetings from Taaj and Special Guest
8:45 pm - 9 pm Performance by Jace The Great
9 pm - 12 am - Celebration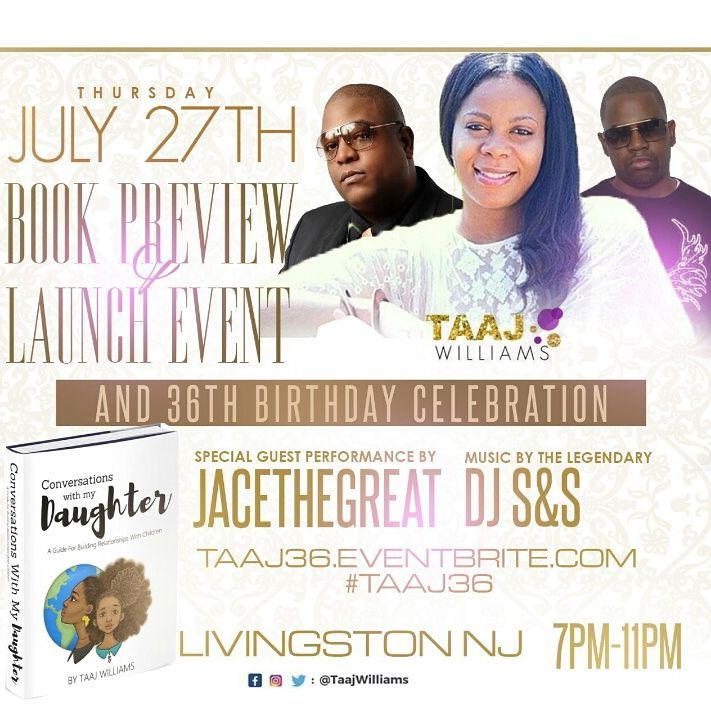 Taaj has always served others but especially in the past few years as she's been on a mission to serve more effectively. While awaiting her breakthrough, she's worked in her community with the youth and organized events honoring leaders and trailblazers which incidentally, has built relationships and togetherness. The breakthrough has come and she wants to share it with you by way of her Book Preview and Business Launch on her actual birthday.
The book, "Conversations With My Daughter: A Guide For Building Relationships With Children", is set for release on August 15th. Synopsis: As time progresses through centuries, decades and generations, many are becoming more endangered of losing their culture and true meaning of what family should be because of lack of communication and effective parenting. Taaj Williams takes her education, life experiences, and motherhood and infuses it with her love for nature, music, movies, and communication to build understanding, perspective, and awareness of individuality.
Taaj is the Founder and CEO of Crowned Star Services, LLC and has one mission; to build unity and togetherness. Our vision is to educate and uplift growing families by hosting family-friendly events, parenting workshops, youth and family activities and programs, business networking for parents and children, healthy living and more.
Ticket price includes food and guest performances. BYOB!!
Music by DJ SNS
In Taaj's words, Dress Code is "Summer Time Fine" or "Comfortably Fly".
*Tickets are limited so please reserve your ticket today. More at the door!
#TAAJ36