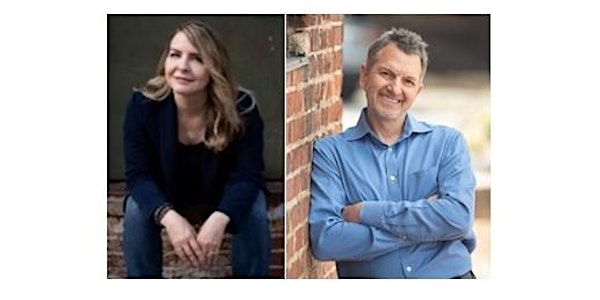 BOOK LAUNCHES: Atlanta Philanthropic Authors GEORGE WEINSTEIN & KIM CONREY
BOOK LAUNCHES: Join Atlanta philanthropic authors GEORGE WEINSTEIN and KIM CONREY as they celebrate their new books.
By A NOVEL IDEA Author Showcase
Date and time
Tuesday, July 25 · 7 - 9pm EDT
Location
Brimstone Restaurant & Tavern 10595 Old Alabama Road Alpharetta, GA 30022
About this event
GEORGE WEINSTEIN
George Weinstein is the author of the kidnapping thriller Watch What You Say, the amateur-sleuth murder mystery Aftermath, the modern relationship drama The Caretaker, the beloved Southern historical novel Hardscrabble Road, its sequel Return to Hardscrabble Road, and the novel of forgotten US history The Five Destinies of Carlos Moreno.
He has always written: at six years old, he wrote a collection of superhero plays for his stuffed animals to act out, to entertain his brother and sister. And, his family will attest, he loved telling lies as a youth, even when there was no penalty for telling the truth, just to see what he could get away with and for how long. So, it's little wonder he still writes fiction.
His work has been published locally in the Atlanta press and in regional and national anthologies, including A Cup of Comfort for Writers. His first novel, the children's motivational adventure Jake and the Tiger Flight, was written for the nonprofit Tiger Flight Foundation, which is dedicated to the mission of leading the young to become the "Pilot in Command" of their lives. He wishes that there had been such an organization in Laurel, Maryland, where he misspent his youth.
George is the twice-former President and current Executive Director of the historic Atlanta Writers Club (AWC), which was founded in 1914. Since 2008, he has directed the twice-yearly Atlanta Writers Conference for the AWC, bringing in acquisitions editors and literary agents to help members understand the business of writing and achieve their dreams of publication.
He lives with his wife–author Kim Conrey–her two daughters, and their furry, four-legged children in Marietta, GA.
ABOUT OFFLINING
OFFLINING (noun): giving up the online world for reality, where the graphics aren't great, nobody can fly, and everything hurts.
Jerusalem Pix virtually lives in the virtual worlds he loves until his high school crush asks him to do a teeny, tiny favor: stop her brother from becoming the next cult-inspired suicide bomber to target the wealthiest one percent. Jeru ventures from his safe life in cyberspace (and his parents' condo) into the chaos of mid-21st century Atlanta, where terrorism and religious zealotry are rampant, and the ultra-rich have retreated into their own state-within-a-state. Now, Jeru will have to become a hero in real life, with no do-overs, save points, or bathroom breaks.
Praise from literary agents and publishers who rejected this book:
"George's prose is just delightfully packed full of wit. Reminded me a lot of reading Lock In by John Scalzi, but funnier."
"Tremendous talent as a writer: voice, great details and world building,"
"It's sharp and witty and brilliantly creative. I enjoyed following Jeru through his transformations, both internal and external."
"I found the concept and protagonist charming."
KIM CONREY
Kim Conrey is the author of the sci-fi romance STEALING ARES. When she's not working on the next book in the Ares Ascending series, you can find her trail running or cosplaying as a Box Hero Wonder Woman in Atlanta's Dragon Con Parade. She also writes about living with the misunderstood condition of obsessive-compulsive disorder. Her stories and essays have been published in regional and local press as well. In addition, she serves as VP of Operations for the Atlanta Writers Club and collaborates on the Wild Women Who Write Take Flight podcast.
She lives with her husband, two daughters, and three cats in Atlanta, Georgia.
ABOUT NICHOLAS ETERNAL
"Nicholas Eternal... is a story that is fresh, original, and thoroughly compelling in the process of transcending definitions of urban fantasy, paranormal romance, or anything in-between. It crafts satisfying twists and turns, possibilities readers might not see coming, and confrontations that test the boundaries of good and evil intentions.
These issues will especially attract book club readers looking for stories that promise lively debates and discussions about good, evil, love, and underlying forces affecting choice."
—D. Donovan, Senior Reviewer, Midwest Book Review
"A well written novel with characters that come to life with internal struggle, ancient powers, and a touch of noir."
—Ben Meeks, author of The Keeper Chronicles
"A sacred tattoo… a painful existence and the nodes of fate … Nicholas Eternal is a mesmerizing, stay-up-all-night story of sacrifice, survival, and just how beautiful a broken heart can be. A must-read urban fantasy from author Kim Conrey!"
— McKinley Aspen, award-winning author of Praesidium (Shadows in the Wind Book One)
"This roller coaster ride of a story is beyond captivating. It's the most heartfelt tale I have ever read and absolutely brilliant."
—KJ Fieler, author of Shadow Runner