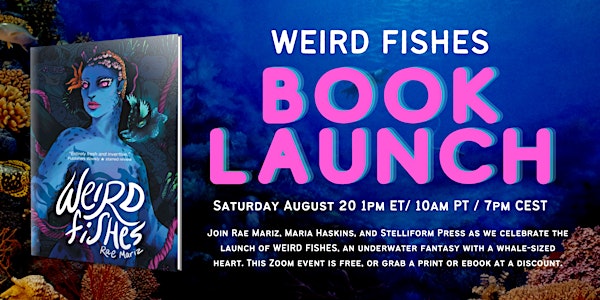 Book Launch: Weird Fishes by Rae Mariz
Join Rae Mariz, Maria Haskins, and Stelliform Press to chat about weird and wonderful ocean fiction and Mariz's novella Weird Fishes.
Refund Policy
Refunds up to 1 day before event
Eventbrite's fee is nonrefundable.
About this event
Rae Mariz's underwater fantasy novella, WEIRD FISHES, launches on August 18 and we're celebrating the book's unique voice and perspective on climate change's effects on the ocean and ocean cultures. We promise a fun and stimulating lunch-time reading and discussion about the book that Publishers Weekly calls "entirely fresh and inventive." The launch will open with Rae Mariz reading from the book, followed by an author interview led by award-winning writer and reviewer Maria Haskins.
This online event has free, ebook, and paperback ticket tiers because we want EVERYONE to come and welcome this beautiful and delightfully strange book into the world.
Event Itinerary:
1:00-1:05 - Welcome & Intros
1:05-1:20 - Rae Mariz reads from Weird Fishes
1:20-1:50 - Q&A led by Maria Haskins
1:50-2:00 - Audience Questions, Prize Giveaway, Thank yous and Goodbyes
About Rae Mariz's Weird Fishes:
AN UNDERWATER TALE OF FRIENDSHIP AGAINST MONSTROUS ODDS
When Ceph, a squid-like scientist, discovers proof of the ocean's slowing currents, she makes the dangerous ascent from her deep-sea civilization to the uncharted surface above. Out of her depths and helpless in her symbiotic mech suit, Ceph relies on Iliokai, a seal-folk storyteller, who sings the state of the sea and has seen evidence of clogged currents as she surfs the time gyres throughout the lonely blue. Navigating the perils of their damaged ocean environment, and seemingly insurmountable cultural differences, Ceph and Iliokai realize that the activities of terrestrial beings are slowing the spiralling currents of time. On a journey that connects future and past, the surface and the deep, the unlikely friends struggle to solve a problem so big it needs a leviathan solution.
About Rae Mariz:
Rae Mariz is a speculative fiction storyteller and cultural critic. Her writing inhabits the ecotone between science fiction and fantasy, and features characters finding family with others who live in the gaps between. She's the author of The Unidentified and co-founder of Toxoplasma Press. Find her work at raemariz.com and on Twitter @raemariz.
About Interviewer Maria Haskins:
Maria Haskins a Swedish-Canadian writer and reviewer of speculative fiction. Her work has appeared in Black Static, Fireside, Shimmer, Cast of Wonders, Mythic Delirium, Beneath Ceaseless Skies, Flash Fiction Online, and elsewhere. She writes a quarterly short fiction roundup for Strange Horizons. Her collection Six Dreams About the Train and Other Stories was published by JournalStone in 2021.
About Stelliform Press:
Stelliform Press is a small independent Canadian literary press which publishes fiction which address our world's most pressing problems: climate change, ecological destruction, and the effect of these issues on how we relate to each other and to the other beings that live with us in the world. We see these problems as systemic and pervasive, exacerbating long-standing social issues, and challenging us to confront the roots of human thought and feeling. Our first four books have all been award finalists, including the William L. Crawford Award, The Otherwise Award Honor List, and the Utopia Award, as well as winning the Sir Julius Vogel Award. See the Stelliform Press website for more info.
Stelliform Online Event Safety Protocol:
We take all abuse and/or harassment extremely seriously. The following are steps we are taking to protect our authors and guests:
Zoom password protection
Chat monitored by Stelliform volunteers
Zero-tolerance policy of abusive/harassing behaviour and inappropriate interactions/questions posed to authors or between guests; any offensive questions or comments will be deleted and you will be banned
If you are banned your paid ticket will not be refunded