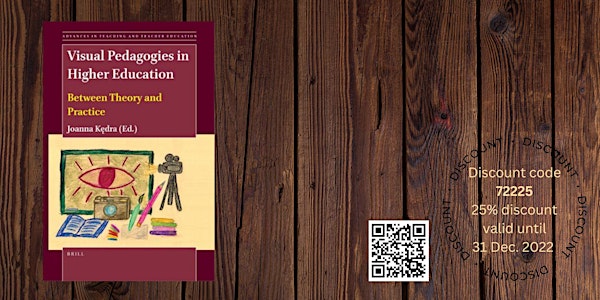 Book launch: "Visual Pedagogies in Higher Education"
Come and get inspired by the ideas on how to implement elements of visual pedagogies in university education (16 & 22 Nov.)
About this event
Two events, on November 16th and 22nd, are organized to launch newly published book "Visual Pedagogies in Higher Education: Between Theory and Practice" edited by Joanna Kędra. Each event will start with a short overview of the book (by Joanna Kedra) and will follow by the introductions to four chapters (by the contributors). There will be time for questions, exchange of ideas and discussion.
You are welcome to attend both events or to choose one, based on your schedule and interest.
On 16th November at 2:00 - 3:00pm (EET / UTC+2) we will hear introductions to the following chapters:
As Visual as Possible: The Pedagogy of Visual Research Methods in a Finnish University (by Joanna Kędra and Rasa Žakevičiūtė)
Discipline-Led Thinking through Cultural Collections and Art (by Olivia Meehan)
Photomedia Literacy in Ruins? Student Attitudes toward Digital and Analog Photomedia When Creating an Archive for the Future (by Gary McLeod and Tad Hara)
Learner-Generated Video: Video Creation Process for Developing Visual Competencies (by Pınar Nuhoğlu Kibar)
On 22nd November at 3:00 - 4:00pm (EET / UTC+2) we will hear introductions to the following chapters:
Teaching Photography Theory to Art Students: Three Case Studies (by Marianna Michałowska)
Using Visual Art Practices to Enhance Educators' Professional Growth (by Karen F. Tardrew)
How Drawing Enhances Learning for Business Students (by Iryna Molodecky)
The Use of Freehand Drawing as a Means of Teaching Research Methods in a Business School (by Gyuzel Gadelshina)