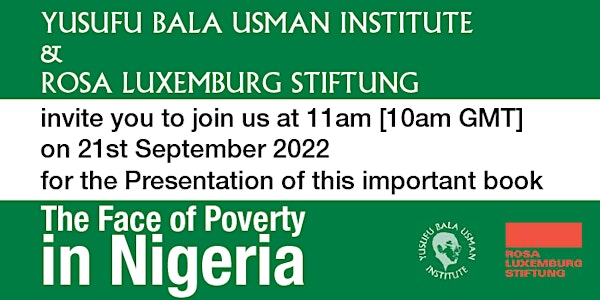 Book Launch: The Face of Poverty in Nigeria
Join us to discuss the book about real experiences of those living in poverty and what causes poverty in the Africa's biggest nation
About this event
Yusufu Bala Usman Institute and Rosa Luxemburg Stiftung invite you for the online launch of "The Face of Poverty in Nigeria" on 21 September at 11am N time.
This book seeks to penetrate the statistics on poverty to shine light on the individuals in all parts of Nigeria who are actually experiencing it. We document in their own words how they live, their problems, their strategies for coping with often impossible situations.
We hope that their narratives will enable policymakers to develop sustainable solutions that are grounded in local realities rather than imported policies that further entrench underdevelopment.
We also examine the causes of poverty in the country such as neo-liberal economic policies imposed by the World Bank and IMF since 1980s, pervasive corruption, failed government policies, gender discrimination, climate change to see the impact of this factors on the poverty situation.
Finally, we seek to draw some lessons from the experiences of those we interviewed and indicate what these mean for the future of democracy in Nigeria.
This book is launched in commemoration of the 17th memorial anniversary of the late Dr. Yusufu Bala Usman.
Book launch moderator:
Prof. Mike Kwanashie (Veritas University, Abuja).
Book reviewers:
- Owei Lakemfa (former Secretary General of the Organisation of African Trade Union Unity)
- Prof. Hauwa Mahdi (University of Gothenburg, Sweden)
- Dr. Hussaini Abdu (Country Director of CARE International, Abuja)