Book Launch: "The Butchering Art" with Author Lindsey Fitzharris
Description
The College of Physicians of Philadelphia, home of the Mütter Museum, welcomes Dr. Lindsey Fitzharris on the first stop of her US book tour!


Books will be available for purchase & there will be a signing with Lindsey after the talk.
ABOUT the Event:
In The Butchering Art, the historian Lindsey Fitzharris reveals the shocking world of nineteenth-century surgery and shows in gripping detail how it was transformed by germ theory and antiseptics. She conjures up early operating theaters―no place for the squeamish―and surgeons, working before anesthesia, who were lauded for their speed and brute strength. These pioneers knew that the aftermath of surgery was often more dangerous than patients' afflictions, and they were baffled by the persistent infections that kept mortality rates stubbornly high. At a time when surgery couldn't have been more hazardous, an unlikely figure stepped forward: a young, melancholy Quaker surgeon, Joseph Lister, who would solve the riddle and change the course of history.
Fitzharris dramatically reconstructs Lister's career path to his audacious claim that germs were the source of all infection and could be countered by a sterilizing agent applied to wounds. She introduces us to Lister's contemporaries―some of them brilliant, some outright criminal―and leads us through the grimy medical schools and squalid hospitals where they learned their art, the harrowing dead houses where they studied, and the cemeteries they ransacked for cadavers.
Eerie and illuminating, The Butchering Art celebrates the triumph of a visionary surgeon whose quest to unite science and medicine delivered us into the modern world.
ABOUT the Author (from her website www.drlindseyfitzharris.com):
As a little girl, I used to drag my grandmother from cemetery to cemetery hunting ghosts. Some might say I was always obsessed with death, but I'd like to think I was always fascinated with the past, and specifically with the people who lived in the past. Thus began a lifelong obsession with history.
I have a PhD in the History of Science, Medicine & Technology from the University of Oxford. In 2010, I was granted a postdoctural research fellowship from the Wellcome Trust. I am the author and creator of the popular website, THE CHIRURGEON'S APPRENTICE, which has received over 1.5 million hits and has 70,000 subscribers from around the world. I am also the writer and presenter of the YouTube series, UNDER THE KNIFE, which takes a humorous look back into our medical past. Recently, I launched a new project called GRAVE MATTERS with Chris Skaife, the Ravenmaster at the Tower of London, which looks at the history of crime, punishment & executions.
I've written for The Guardian, The Lancet, New Scientist, Penthouse, The Huffington Post and Medium, and have appeared on PBS, Channel 4 UK, BBC and National Geographic.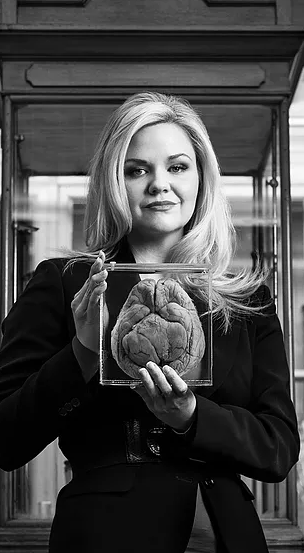 Questions? Email events@collegeofphysicians.org
Event registration is non-refundable, but is transferable.