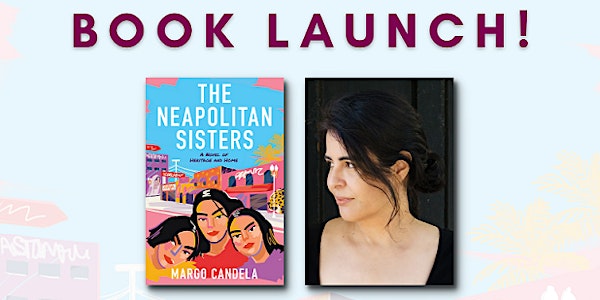 Book Launch & Signing: The Neapolitan Sisters by Margo Candela
Celebrate the launch of THE NEAPOLITAN SISTERS by Margo Candela!
When and where
Location
Medicine for Nightmares Bookstore & Gallery 3036 24th Street San Francisco, CA 94110
About this event
Join Margo Candela to celebrate the launch of her fifth novel, The Neapolitan Sisters, for a reading, Q&A, book signing, and conversation with bestselling author Reyna Grande.
A TODAY.com 2022 anticipated book by a Latina author!
Growing up with a kind but alcoholic father and a suspicious, passive aggressive mother, the Bernal sisters each developed their own way of coping: Dulcina had her art and drugs and alcohol, Claudia plunged into her studies and fled to Princeton, and Maritza watched one Disney movie after another in between devouring romance novels.
Now all grown up, the sisters are reunited at last for Maritza's dream wedding. But they are no less different than they were growing up: Maritza is a princess bridezilla, Claudia is the family "fixer," and Dulcina "Dooley" is finally sober. With all three Bernal sisters back in their East L.A. home, each begins to take steps to come to terms with each other, their parents, and the secrets from their shared past. While their lives may have taken different paths, they are still sisters at heart.
Told in alternating points of view, The Neapolitan Sisters is a humorous yet moving look at what it means to be a sister, daughter, and ultimately, your own self, despite the pressures that come with being part of a family.
PRAISE FOR THE NEAPOLITAN SISTERS INCLUDES:
"Candela delivers a powerful story of family drama." — María Amparo Escandón, New York Times bestselling author of L.A. Weather
"A touching, funny, sexy read!" — Julia Amante, author of Evenings at the Argentine Club
"An engaging dynamic page-turner of a book!" — Staci Greason, actor, award-winning screenwriter and author of All the Girls in Town
"Beautifully written and full of heart." — Suzy Krause, author of Sorry I Missed You
ABOUT MARGO CANDELA:
Margo Candela was born and raised in Los Angeles and began her writing career when she joined Glendale Community College's student newspaper. She transferred to San Francisco State University as a journalism major, and upon graduation began writing for websites and magazines before writing her first two novels, Underneath It All and Life Over Easy. She returned to Los Angeles to raise her son and later wrote Good-bye to All That and More Than This. The Neapolitan Sisters is her fifth novel and her first after a decade-long hiatus from writing. She once again is living in San Francisco. For more information, visit MargoCandela.com.
ABOUT REYNA GRANDE:
Reyna Grande is the author of the memoirs The Distance Between Us and A Dream Called Home, and the novels Across a Hundred Mountains, Dancing With Butterflies, A Ballad of Love and Glory, and the anthology Somewhere We Are Human. Her books have been adopted as the common read selection by schools, colleges, and cities across the country. Reyna has received an American Book Award, the El Premio Aztlán Literary Award, and the International Latino Book Award. For more information, visit ReynaGrande.com.