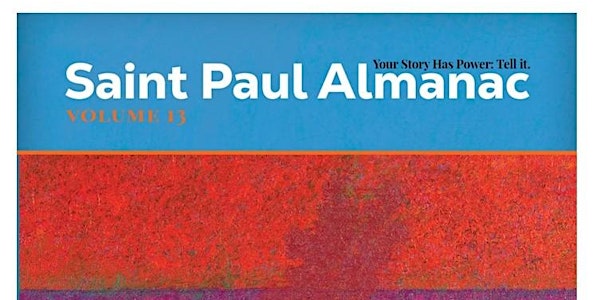 Book Launch Reading: Saint Paul Almanac: Vol 13 A Path to Each Other
presenting Colleen Casey, Ty Chapman, Arleta Little, Rebecca Nelson, Marjorie Otto, Debra Stone, Clarence White, and Sara Dovre Wudali
When and where
Location
Minnesota Humanities Center 987 Ivy Avenue East Saint Paul, MN 55106
About this event
The grand finale of Saint Paul Almanac's Volume 13: A Path to Each Other community reading series is hosted by Minnesota Humanities Center. MN Humanities Center's generous donation enabled this anthology to be published. Our reading includes a reception and a panel discussion.
Featuring work by Ty Chapman, Norita Dittberner-Jax, Margaret Hasse, Thomas LaBlanc, Arleta Little, Margaret Lovejoy, David Mendez, John Minczeski, Loren Niemi, Tara Perron, Julia Klatt Singer, Clarence White, Diane Wilson, Chong Yang, Maryam Marne Zafar, James Zimmerman, and many others.Cover Art by George Morrison, courtesy of the Minnesota Museum of American Art Collection, © Briand Morrison
"A Path to Each Other is a beautiful and formidable collection. It's a love letter to memories, places, and people who make possible our collective understanding of belonging. The voices in this book speak their truths in these tumultuous times, declaring the value of their words, holding safe the pieces of our world." –Kai Kalia Yang, author, The Latehomecomers: A Hmong Family Memoir, The Song Poet, and Somewhere in the Unknown World
A Path to Each Other is a marvelous kaleidoscope of colorful stories, insightful poems, and essays, affirming the joy of people coming together in loved places in St. Paul, working to create meaningful lives, celebrating a variety of cultures, and offering insights into healing spiritual and emotional pain. Here are vibrant depictions of people weighing their individual lives and their relationships. They pose moving questions about the world's inequalities, hoping for better futures, for trust regained and understanding renewed. Here are playfulness and fun. Here are many paths to each other. This almanac will be cherished not only for its insights but for displaying the courage it takes to create change and trust. In the words of Filsan Ibrahim, one of the winners of the Sidewalk Poetry Contest, "If people come together/they can even mend /a crack in the sky."―Emilie Buchwald, publisher and founder of The Gryphon Press, and recipient of the National Book Critics Circle Lifetime Achievement Award
Colleen Casey lives in a tiny sky-blue bungalow near Como Lake. She has turned her little yard into a paradise for birds, bees, butterflies, and other pollinators by planting it full of native wild- flowers that bloom spring through fall. Of mixed Dakota and Euro-American heritages, she sees herself as a person of crosscurrents and confluences and believes we are all related.
Ty Chapman is a Twin Cities–based puppeteer, poet, curator, and storyteller. His upcoming works include writing a children's book through the Loft's Mirrors and Windows program and creating a one-man shadow puppet and marionette show for Puppet Lab.
Arleta Little is a writer and culture worker. Her recent literary work has appeared in multiple publications, including We Are Meant to Rise, Blues Vision: African American Writing from Minnesota, Saint Paul Almanac, Black Literacy Matters, and This Was 2020. Her essay "Life and Death in the North Star State" was nominated for a Pushcart Prize. Arleta serves as the executive director for the Loft Literary Center.
Rebecca Nelson works at East Side Elders, helping seniors stay in their homes as long as they are able to. She also serves on the boards of the Dayton's Bluff and Payne-Phalen community councils, the Payne Arcade Business Association, the American Indian Family Center, and the East Side Neighborhood Development Company, and is president of the East Side Lions Club.
Marjorie Otto worked for four years as a reporter and editor at Lillie Suburban Newspapers covering the East Side of Saint Paul. She says, "It was an honor to share the diverse stories of an original and tight-knit series of neighborhoods." She is a beekeeper, a paddler of rivers, and a hiker.
Debra Stone writes short stories, poetry, and essays. She lives in Robbinsdale with her husband and their German boxer, Ziggy. Currently she is writing a novel.
Clarence White is a writer, editor, typewriter poet, curator, and arts administrator. His publications are included in several editions of Saint Paul Almanac, Suisun Valley Review, Public Art Review, and Martin Lake Journal, and his essay "Smart Enough for Ford" appears in the anthology Blues Vision: African American Writing from Minnesota. Currently, Clarence is the associate director of the East Side Freedom Library and lives in Saint Paul.
Sara Dovre Wudali is a writer and editor from Saint Paul, Minnesota. Her work has been published or is forthcoming in Creative Nonfiction, Sweet, North Dakota Quarterly, and Saint Paul Almanac, and has appeared as part of a public art project in Mankato, Minnesota. She is the co-editor with Susan Swanson of the newly released chapbook All You Need is One Avocado
Claudette M. Webster is a poet and essayist in the Twin Cities. She is a Senior Editor with the Saint Paul Almanac. A native of Jamaica, W.I. she is curious and enjoys exploring her new home. An avid walker, don't be surprised if you find here walking in your neighborhood.
Wendy Brown-Baez is the author of Heart on the Page: A Portable Writing Workshop. Her work has appeared in numerous literary journals and anthologies. She leads writing workshops in community spaces such as healing centers, libraries, prisons and shelters. She believes in the power of words to transform lives.