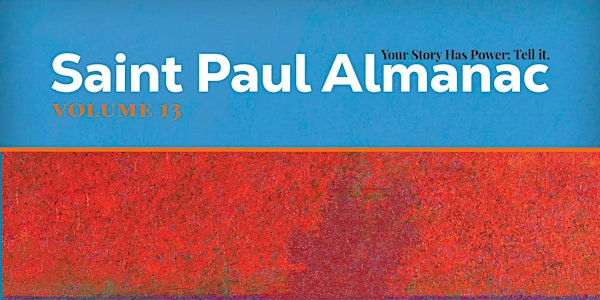 Book Launch Reading: Saint Paul Almanac: Vol 13 A Path to Each Other
DeeAnn Parks, Marsha Foss, Anne Dimock, Andrea Johnson, Catherine Grotenhuis, Heidi Schallberg, Jordan Hirsch, co-hosted by Katie Vagnino
About this event
The 2022 Saint Paul Almanac: A Path to Each Other (Volume 13) is a collection of poems and stories centered on the experiences of the people who live, work, and play in Saint Paul, bringing together writers from culturally diverse and ever-evolving neighborhoods. This collection is a unique and significant recording of attentiveness to a variety of exceptional encounters amid daily life. It is filled with dynamic, heart-felt, authentic storytelling from both emerging and established writers, as well as poets who have their work embedded in Saint Paul sidewalks. It exposes the impact of historical occupation on the original Ojibwe and Dakota peoples, shares the aspirations of new immigrants, celebrates a city that grew along the Mississippi River, and explores some of the most urgent topics of our times such as inclusion, social justice, and climate change. These stories provoke, enrage, lift up, heal, and connect. They are a testament to the resiliency and challenges of living together in a multifaceted city and state. By sharing our truth, we not only learn about each other, we discover what is possible.
A Path to Each Other is a beautiful and formidable collection. It's a love letter to memories, places, and people who make possible our collective understanding of belonging. The voices in this book speak their truths in these tumultuous times, declaring the value of their words, holding safe the pieces of our world. –Kai Kalia Yang
A Path to Each Other is a marvelous kaleidoscope of colorful stories, insightful poems, and essays, affirming the joy of people coming together in loved places in St. Paul, working to create meaningful lives, celebrating a variety of cultures, and offering insights into healing spiritual and emotional pain.
Here are vibrant depictions of people weighing their individual lives and their relationships. They pose moving questions about the world's inequalities, hoping for better futures, for trust regained and understanding renewed. Here are playfulness and fun. Here are many paths to each other. This almanac will be cherished not only for its insights but for displaying the courage it takes to create change and trust. In the words of one of the winners of the Sidewalk Poetry Contests, "If people come together/they can even mend /a crack in the sky." -Emilie Buchwald
Anne Dimock is a narrative writer working in fiction and creative nonfiction. Her memoir, Humble Pie—Musings on What Lies Beneath the Crust, was a finalist for a Minnesota Book Award. She has received awards, fellowships, and residencies for her narrative writing and has been published in print and online journals. Her new book, Against the Grain, will be published in November 2022 by Woodhall Press.
Marsha Foss enjoys Saint Paul's vibrant writing community. A retired educator, she divides her time between Minnesota and Maryland. When in her Como Park neighborhood, she has the fun of living near young grandsons. Her work has been published online and in print journals, and she has been nominated for a Pushcart Prize.
Andrea E. Johnson grew up in West Saint Paul. She earned her bachelors degree in piano and nursing at the University of Minnesota and an M.Ed. degree from the University of St. Thomas. After a long career, primarily in public health, she picked up writing poetry again. She lives in Lake Elmo.
Catherine Boebel Grotenhuis and her husband, Steve, raised their blended family in Saint Paul and help with their local grandchildren. She worked at Women's Advocates, the Farming- ton Senior Center, and the Science Museum of Minnesota's Youth Science Center. Raised on Chicago's South Side, she graduated from Carleton College and has been published in several online publications. Her nonfiction manuscript is seeking publication.
Jordan Hirsch wishes she could spend all of her time watching Star Trek, but she also enjoys cooking, reading, writing, and running, so she spends time doing that too. Originally from southern Illinois, she lives in the Como Park neighborhood with her husband and their two perfect cats.
DeAnne L Parks is a painter, sculptor, writer, and speaker who builds the occasional giant puppet. Her work is published and collected internationally. She resides in Saint Paul's West End with her husband, their dog, and a ridiculous number of garter snakes.
Heidi Schallberg is an urban planner, writer, and walker. She wants you to calmly stop for people crossing the street when you are driving.