BOOK LAUNCH & READING: adjacent islands / islas adyacentes
A reading to celebrate the launch of the book "adjacent islands / islas adyacentes" Wednesday, December 7th at 6:30PM
When and where
Location
The Clemente Center 107 Suffolk Street New York, NY 10002
Refund Policy
Contact the organizer to request a refund.
Eventbrite's fee is nonrefundable.
About this event
Join us Wednesday, December 7th at 6:30PM for a reading to celebrate the launch of Nicole Cecilia Delgado's adjacent islands/islas adyacentes, translated by Urayoán Noel, with additional readings from Mara Pastor and Edwin Torreswith.
co-hosted by The Clemente, Doublecross Press, La Impresora, and Ugly Duckling Press
Nicole Cecilia Delgado's book art is intimate yet poised toward the radically communitarian, both in the people and histories evoked in its pages and in the collaborative and unabashedly political orientation of her editorial and publishing work.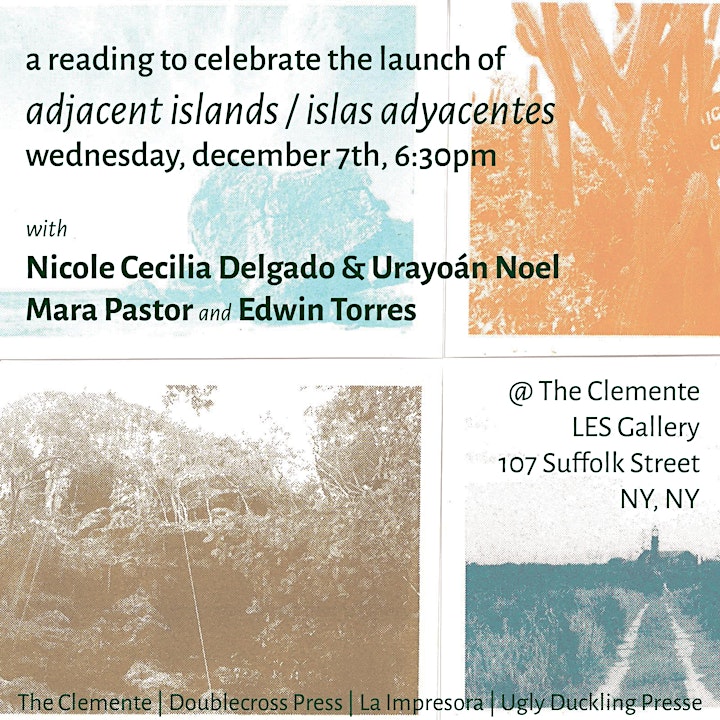 The event is Co-organized by Ugly Duckling
About the Book
adjacent islands/islas adyacentes is a bilingual edition of her artist books amoná (2013) and subtropical dry (2016), both based on camping trips to islands in the Puerto Rican archipelago: the uninhabited Mona to the west of the main island and the municipality of Vieques to the east (Amoná and Bieké in the reconstructed indigenous Taíno language). Challenging the insularist logic that has historically defined Puerto Rican national imaginaries, on these adjacent islands, people and nature connect in unexpected ways, as Delgado documents the art of survival under military occupation, extractivism, and the surveillance state. Part of a larger corpus of what Delgado calls "camping books," adjacent islands / islas adjacentes seeks to translate the intemperie (open sky) of the camping trip onto the confines of the page. Delgado follows the late Ulises Carrión in enacting a networked book art where "communication is still inter-subjective, but it occurs in a concrete, real, physical space—the page." Call it book art as counterarchive.
About the Author
Nicole Cecilia Delgado is a poet, translator, and book artist. Her work has been translated into English, Catalan, Polish, German, Galician, and Portuguese. With the poet Amanda Hernández, she currently directs and develops La Impresora, a poetry press and risograph print shop dedicated to small-scale editorial work and allocating resources to support local independent publishing, and from which they also organize the Independent and Alternative Book Fair in Puerto Rico (FLIA PR).
About the Translator
Urayoán Noel is the author of eight books of poetry, most recently Buzzing Hemisphere / Rumor Hemisférico and Transversal, both with the University of Arizona Press. He received the LASA Latino Studies Section Book Prize and an MLA Honorable Mention for his study In Visible Movement: Nuyorican Poetry from the Sixties to Slam (University of Iowa Press). His translations include no budu please by Wingston González (Ugly Duckling Presse) and Architecture of Dispersed Life: Selected Poetry by Pablo de Rokha (Shearsman Books), which was a finalist for the National Translation Award. He also translated the concrete poems in Amanda Berenguer's Materia Prima (UDP), which was a finalist for the Best Translated Book Award. Noel is an associate professor of English and Spanish and Portuguese at New York University and has also taught at SUNY Albany, CantoMundo, and Stetson University's MFA of the Americas. Originally from Río Piedras, Puerto Rico, he lives in the Bronx.
About the Publication
ISBN: 978-1-946604-18-7 Trade Paperback Publication Date: December 15 2022 Distribution: Direct Only