Financial Empowerment for Women - Book Launch Party for Jayne Ellegard with emcee Jasmine Stringer!
About this Event
April is National Financial Literacy Month and I couldn't think of a better time to launch this book! This book was created to help women who are feeling lost on their money journey or overwhelmed by their financial situation, regardless of how simple or complex. See the "book blurb" below for more.
Join me, along with emcee Jasmine Brett Stringer, author of Seize Your Life: How to Carpe Diem Every Day, NSA Professional Speaker, Founder, #SHARETHEMICMN, On-air Lifestyle Expert and one of the 100 People to Know in Minnesota in 2021. You won't want to miss her energy and sparkle!
The next day is my birthday, so I hope you'll swing by to celebrate the publishing of my first book and wish me a happy birthday, all at the same time!
There will be a $5 donation to Girl Scouts River Valleys for EVERY person that buys a book AND attends the party. One of my core values is to invest in the financial future of others and Girl Scouts River Valleys invests in the financial future of young girls. Help me support this wonderful organization!
Buying the book is absolutely not necessary to attend the party. Registration for the party does make you eligible for the prizes and giveaways, so grab your favorite beverage and get ready for 45 minutes of jam-packed fun!
Your confirmation email will provide details regarding how to purchase books if you are so inclined. Or you can always check out my website at www.ellegantwealth.com.
Book Pre-Review!
-- Gailen Krug, retired Chief Investment Officer, retired alternative asset consultant, and current Family Office Trustee and Board member
"When solving problems, mathematicians, engineers, and others often use the term 'elegant solution', referencing the maximum best outcome achievable with the smallest or simplest effort. Jayne Ellegard's Financial Empowerment for Women is any woman's elegant solution for taking care of herself financially. The book is filled with interesting facts, anecdotes and case studies, with worksheets, and is conveniently organized into six useful "Pillars" of financial knowledge. I enjoyed this book, and learned from it, seeing myself in her stories."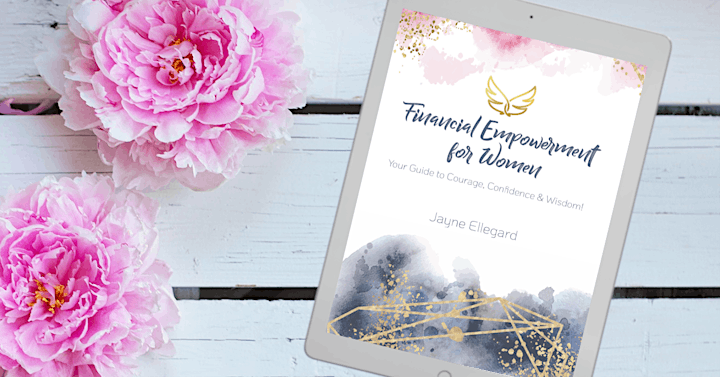 Financial Empowerment for Women: Your Guide to Courage, Confidence & Wisdom!
Are you ready to become a woman who is self-assured and confident in your money decisions? Regardless of age, wealth level or current financial knowledge, you will benefit from the process this book will provide.
It's time to change the narrative about becoming a financially successful woman and level up your knowledge around money.
The Six Pillars to Financial Empowerment outlined in this book will provide you with clarity, motivation & hope that is comprehensive, eye-opening & fun!
Your financial situation is never going away. EVER. It's going to be there. Every. Single. Day. Invest in yourself now and give yourself a gift that will be with you forever.