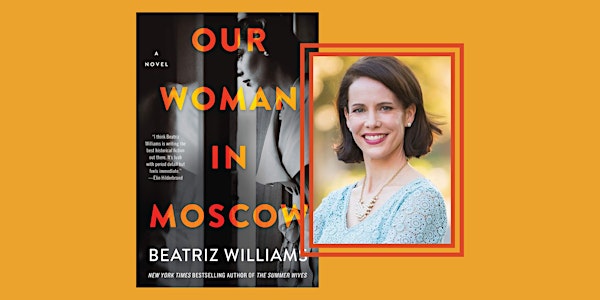 Book Launch Party for Beatriz Williams' OUR WOMAN IN MOSCOW!
Event Information
Location
Mystic Museum of Art
9 Water Street
Groton, CT 06355
Refund policy
Refunds up to 1 day before event
Join us along with Beatriz Williams and the Mystic Museum of Art in celebrating Williams' latest book OUR WOMAN IN MOSCOW
About this event
Bank Square Books and the Mystic Museum of Art invite you to a book release party for bestselling author Beatriz Williams' new novel, Our Woman in Moscow. Tickets to this event are $35 and include a signed copy of Our Woman in Moscow and light refreshments.
This event will take place outdoors on MMoA's beautiful stone patio.
Attendees of this in-person event will be eligible to attend the virtual book launch event on Thursday, June 3rd at 7 PM EST with Beatriz Williams and Marie Benedict.
About the Book
The New York Times bestselling author of Her Last Flight returns with a gripping and profoundly human story of Cold War espionage and family devotion.
In the autumn of 1948, Iris Digby vanishes from her London home with her American diplomat husband and their two children. The world is shocked by the family's sensational disappearance. Were they eliminated by the Soviet intelligence service? Or have the Digbys defected to Moscow with a trove of the West's most vital secrets?
Four years later, Ruth Macallister receives a postcard from the twin sister she hasn't seen since their catastrophic parting in Rome in the summer of 1940, as war engulfed the continent and Iris fell desperately in love with an enigmatic United States Embassy official named Sasha Digby. Within days, Ruth is on her way to Moscow, posing as the wife of counterintelligence agent Sumner Fox in a precarious plot to extract the Digbys from behind the Iron Curtain.
But the complex truth behind Iris's marriage defies Ruth's understanding, and as the sisters race toward safety, a dogged Soviet KGB officer forces them to make a heartbreaking choice between two irreconcilable loyalties.
About the Author
Beatriz Williams is the bestselling author of thirteen novels, including Her Last Flight, The Summer Wives, and The Golden Hour, as well as All the Ways We Said Goodbye, cowritten with Lauren Willig and Karen White. A native of Seattle, she graduated from Stanford University and earned an MBA in finance from Columbia University. She lives with her husband and four children near the Connecticut shore, where she divides her time between writing and laundry.
About our Partners
Mystic Museum of Art is located at 9 Water Street in Downtown Mystic, CT 06355. Mystic Museum of Art, a part of the Connecticut art scene for 100 years, is a place where culture, tradition, and the charm of small-town New England converge. There is paid parking available on-site in the museums' lot. There is also street parking available throughout downtown Mystic on a first-come, first-served basis.
Alcoholic refreshments will be provided by Spencer & Lynn, a boutique bottle shop located in Downtown Mystic, CT. At Spencer & Lynn, our focus is on the producers. These producers, whether they are brewers, distillers, or winemakers, are people who are incredibly passionate about what they are creating. We take it one step further and work with producers that are proponents of organic / natural production. Most of the producers represented in our stores are small (beyond small for some) - they only produce what they can grow and make themselves. Our staff sets us apart, we are lucky to have amazing professionals in the store each day to help customers with virtually any needs in the world of beverages. Together, we are incredibly passionate about the products we sell and why we choose them. The entire team at S&L loves to drink wine, drink wine with food, and loves to talk about it.

Date and time
Location
Mystic Museum of Art
9 Water Street
Groton, CT 06355
Refund policy
Refunds up to 1 day before event