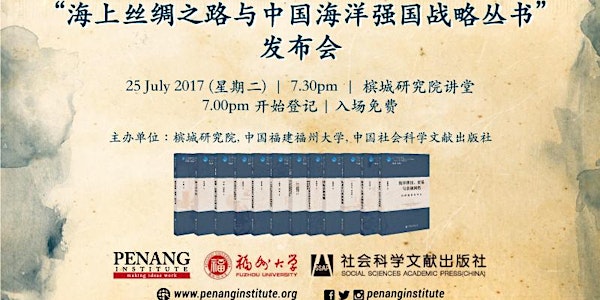 Book Launch : Maritime Silk Road & China Power Strategies (Mandarin Forum)
When and where
Location
Penang Institute Jalan Brown George Town, Pulau Pinang 10350 Malaysia
Description
From a global perspective, the Maritime Silk Road is a platform where new civilizations emerge based on the sea route to enable the interactions of thoughts, products and cultures, which also serves as the efforts for human being to think marines as passages rather than barriers. In its historical development, traditional "Silk Road" central to the trades in farming age which was originated in beginning during the Han dynasty (207 BCE – 220 CE) remain prominent through Tang, Song, Yuan, Ming and Qing dynasty, ended in 1840.
The Maritime Silk Road (officially the 21st Century Maritime Silk Route Economic Belt) is a strategic initiative to bring the discourses back to China. Since 2013, Mr. Xi, President of the People's Republic of China, brought up the idea of "One Belt One Road" as important strategic thoughts as the at the present stage. As the shift of strategic paradigm, the new theory, new knowledge system and new discourses are needed. This book series is the efforts made by the Fuzhou University's Research Institute of "21th Maritime Silk Road Development" and Social Sciences Academic Press (China).
This book series aims at developing strategic theories for the goal by exploring the various connections between the countries along the route, including historical, economic, and cultural dimensions to build up the unique knowledge systems on maritime cultural theories.
槟城研究院很荣幸举办「海上丝绸之路与中国海洋强国战略丛书」发布会。此丛书由 中国福建福州大学、中国社会科学文献出版社共同策划而成。其目的是基于全球化视 野,通过挖掘中华民族的海洋文化基因,探索中国与海上丝绸之路沿途国家历史、经 济、文化的当代与历史关联。而本丛书之一的《19世纪槟城华商五大姓的崛起与没落》,为本院历史与遗产组主任黄裕端博士的中文版译作,也将在此与大众见面。