Description
Dress is Black Tie or Dinner Jacket
My Silver Boots LLC. is excited to share in the celebration and release of a very impactful memoir on November 11th, 2017. Because of some great advice out of New York City, we are in the process of creating TWO great books focused on transition and resilience!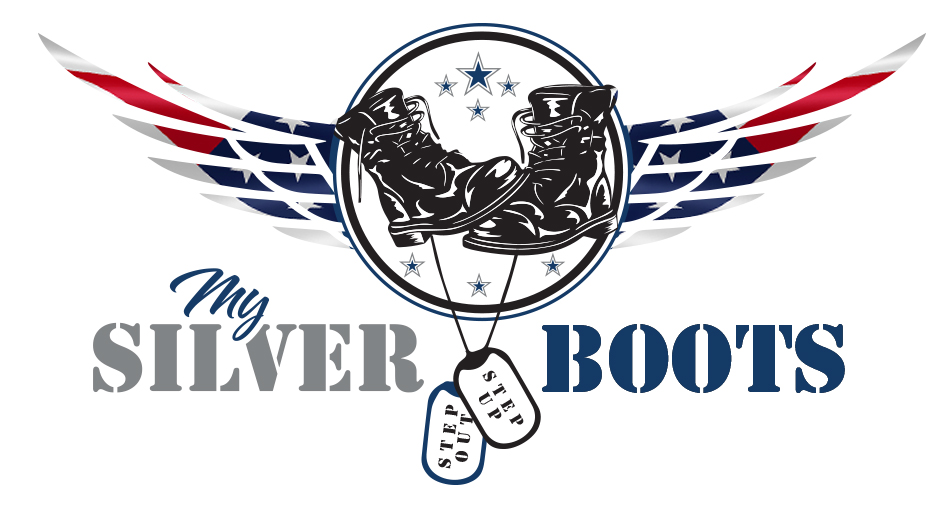 The first is a cinematic memoir of Mark's life through his eyes. Step Out, Step Up: A Lifetime of Transitions and Military Service, and the second book to be released in January is is Warrior's CODE 001: Secrets for Triumphant Transition. Marks personal and professional experiences coupled with other Veterans were documented to help veterans, military service members and their families with transition, sharing their challenges in overcoming their own obstacles towards building positive and resilient lives.
Get ready for the Best Book Launch Ever! Get your glamour photos as you arrive on the Red Carpet. Photos begin at 6:00 p.m., with a free bar open social hour with house wine and beer starting at 6:30 for one hour. Followed by hors d' oeuvre's and cash bar the remainder of the night. Mark Green and Echo Garrett will share the journey and the power of the Warrior's CODE 001.
This is a celebration that includes friends, family, co-workers, community leaders and non-profits who share similar goals of helping Veterans.
The co-author Echo Montgomery Garrett, an award-winning author will be present and speak about our project and vision and Mark will also share his vision and the journey and will introduce some special guests in the crowd. Books will be available for sale and Mark and Echo will sign copies.
Register right now! Just follow the prompts.
Frequently Asked Questions (FAQs)
Are there ID or minimum age requirements to enter the event?
This is an adult event night. The Organizer will have family and his son will have a few guest under the age of 18. There will be a one hour reception with wine and beer available within our venue. Soft drinks and water will be available for all not of legal drinking age.
What are my transportation/parking options once I arrive at the event?
There is Valet Parking at your option and cost or regular parking options for free after 6:00 p.m. the night of the event. There is a bit of a walk from the parking area to the venue so for those who are wearing high heels, you may want a pair of comfortable walking shoes or sandals and then change them when you arrive at the Hard Rock Cafe.
To Theme Parks and Main Parking Garage
Parking Garage Address for Theme Parks and Universal City Walk™
6000 Universal Boulevard
Orlando, FL 32819
GPS Geocode for Directions to The Parking Garage
Latitude: 28.47399
Longitude: -81.46228
Guests visiting Universal's Volcano Bay™ should follow directional signs across the resort to the Universal Orlando™ parking garages.
From Orlando International Airport
1) Take SR-528 West 11 miles to I-4 East
2) Take I-4 East 2 miles to exit 75A
3) Follow the signs to Universal Orlando's main parking garage or to one of the five on-site resort hotels
From I-4 Eastbound (Disney/Lake Buena Vista/Kissimmee)
1) Take I-4 East to exit 75A
2) Follow the signs to Universal Orlando's main parking garage or to one of the five resort hotels
From I-4 Westbound (Downtown Orlando)
1) Take I-4 West to exit 74B
2) Follow the signs to Universal Orlando's main parking garage or to one of the five resort hotels
How can I contact the organizer with any questions?
Mary Aman, a contracted assistant will be available until the event to field your questions. She can be reached at 1-321-261-2852.
Do I have to bring my printed ticket to the event?
Please print out and bring this Eventbrite invitation to verify on our Master list. We will have a door greeter who will guide you to the event.
Do I need to bring anything?
Bring your perfectly good smiles only. No gifts or cards.

NOTICE OF FILMING AND PHOTOGRAPHY
When you enter a My Silver Boots LLC event or program, you enter an area where photography, audio, and video recording may occur. By entering the event premises, you consent to interview(s), photography, audio recording, video recording and its/their release, publication, exhibition, or reproduction to be used for news, web casts, promotional purposes, telecasts, advertising, inclusion on websites, social media, or any other purpose by My Silver Boots LLC and its affiliates and representatives. Images, photos and/or videos may be used to promote similar events in the future, highlight the event and exhibit the capabilities of My Silver Boots LLC. You release Myt Silver Boots LLC, its officers and employees, and each and all persons involved from any liability connected with the taking, recording, digitizing, or publication and use of interviews, photographs, computer images, video and/or or sound recordings. By entering the event premises, you waive all rights you may have to any claims for payment or royalties in connection with any use, exhibition, streaming, web casting, televising, or other publication of these materials, regardless of the purpose or sponsoring of such use, exhibiting, broadcasting, web casting, or other publication irrespective of whether a fee for admission or sponsorship is charged. You also waive any right to inspect or approve any photo, video, or audio recording taken by My Silver Boots LLC. or the person or entity designated to do so by My Silver Boots LLC. You have been fully informed of your consent, waiver of liability, and release before entering the event.