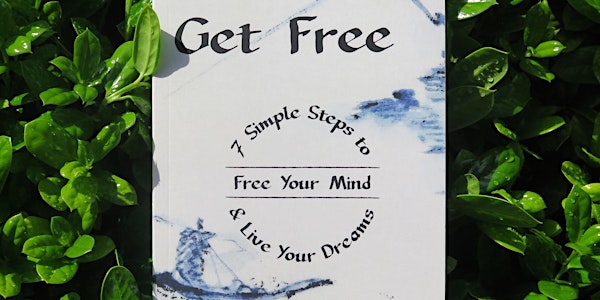 BOOK LAUNCH FOR SELENA SAGE'S "GET FREE: 7 SIMPLE STEPS TO FREE YOUR MIND & LIVE YOUR DREAMS"
When and where
Location
Casa de Luz Village 1701 Toomey Road Austin, TX 78704
Description
Visiting from her current home in Cape Verde, Africa, native Austinite Selena Sage is back in town to launch her latest book, Get Free, and to give an inspiring talk about living your best life!
Please join us to celebrate the launch of Selena Sage's third book entitled, "Get Free: 7 Simple Steps to Free Your Mind & Live Your Dreams." Get Free is more than a book, it is a transformative tool that will help you to define what you want, let go of what does not serve you, and chart a path to live a life in true alignment with your purpose. Direct and accessible, Get Free includes details of each principle, brief stories from Selena Sage's own journey (from corporate life to living on an island in Africa! more here: selenasage.com/about), and exercises that will allow you to apply the principles directly to your life.

At the beautiful Casa de Luz Village, Selena will give a talk centered around freedom and living freely, and she will also provide more details about the creation of the book. You can get your questions answered during a Q&A session before having an opportunity to purchase the book and get it signed. Selena will also be taking pictures during that time.

The agenda will be as follows:

2-2:15 PM: Meet / Greet / Early viewing of the book
2:15-2:30: Guided Qi Gong and Reflective Question Exercise
2:30-3 PM: Discussion of freedom, peace, and living freely + overview of book
3-3:30: Q&A
3:30 - 4pm: Book signing / photos

Refreshments and appetizers will be served.

Please note, the unit price of each paperback copy of Get Free is $9.95. However, a special event discount will be provided...2 copies for $16.95! Copies of Selena Sage's first two books: Meditative Questions: Zen & Tao Inspired (Hardcover, full color, retail: $40) and unbreakable (Full color, paperback, retail: $25) will also be available for purchase with special event pricing for purchases of two or more books. (All three books can be purchased at a special price of $60 at the event, a $15 savings!) As an additional incentive, tax will be waived for cash purchases. All credit cards will also be accepted.

You are welcome to invite your friends and family. We are looking forward to seeing you!

FAQs
What are my parking options at the event?
FREE PARKING is available in the lot directly across the street from Casa de Luz. (The lot is paid parking only during the week.) Be sure that you are parked in the lot, and not on the street (street parking may require payment), to take advantage of this free parking!
Please note: There are two handicapped parking spaces at the entrance of the Casa de Luz.
May I arrive early to the venue?
Yes! Casa de Luz (casadeluz.org) features beautiful outdoor areas, a small playground for children, and a vegan restaurant that you may enjoy before the event. We look forward to seeing you there!