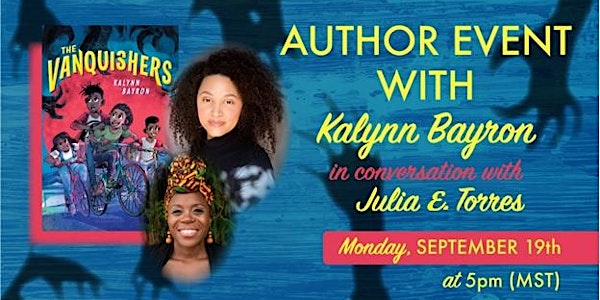 Book Launch Event with Kalynn Bayron
RSVP for Kalynn Bayron, and teacher & activist, Julia E. Torres, to discuss Kalynn's new book, The Vanquishers! Outside - Weather Pending
When and where
Location
Second Star to the Right Children's Books 1455 S. Pearl Street Denver, CO 80210
About this event
We are happy to announce author, Kalynn Bayron, will be at our store on September 19 to discuss her new book, The Vanquishers! Kalynn will be joined by Teacher, Writer, and Activist, Julia E. Torres to discuss the book, life as an author, and the importance of diversifying books. You won't want to miss this thought provoking discussion!
About The Vanquishers (Books Will Be Available For Purchase At The Event)
Bestselling author Kalynn Bayron brings readers the world of The Vanquishers, where vampires were history . . . until now.
Twelve-year-old Malika "Boog" Wilson and her best friends have grown up idolizing The Vanquishers, a group of masked vampire hunters who wiped out the last hoard of the undead decades ago. For kids today, vampires feel more like fun comic book fodder than real life, and the days of garlic wreaths and early curfews are long gone.
But when a new student, Aaron, joins Boog's crew, and goes missing after a school fundraiser, the kids suspect a vampire was involved. Boog is convinced their school counselor, Mr. Rupert, is hiding something and she is determined to save Aaron. No one ever expected The Vanquishers to return, but if their town needs protection from the undead, they know who to call.
Inspired by Buffy the Vampire Slayer and The Watchmen, this adventure launches readers into an exciting new series.
About Kalynn Bayron From Kalynn's Website (Click here to visit Kalynn's Website)
Kalynn Bayron is the New York Times and Indie bestselling author of the YA fantasy novels CINDERELLA IS DEAD and THIS POISON HEART. Her latest works include the YA fantasy THIS WICKED FATE and the middle grade paranormal adventure THE VANQUISHERS. She is a CILIP Carnegie Medal Nominee, a two-time CYBILS Award nominee, and the recipient of the 2022 Randall Keenan Award for Black LGBTQ fiction. She is a classically trained vocalist and musical theater enthusiast. When she's not writing you can find her watching scary movies and spending time with her family.
About Julia E. Torres From Julia's Website (Click here to visit Julia's Website)
My life's work is to help children feel seen, respected and understood. My activism is intimately connected with teaching because both are who I am, not just what I do. Travelling through Mexico, Europe, Canada, Iceland and South America has emboldened that philosophy. Wherever I've been, my mission is to meld the best practices in literacy instruction with librarianship, transforming education along the way.
I am a reflection of those around me.
I have been awarded the 2020 NCTE Colorado Affiliate Teacher of Excellence award, the same year I was named a Library Journal Mover and Shaker. In addition to individual projects I undertake, I'm a board member for the Assembly on Literature for Adolescents of NCTE (ALAN), and The Book Love Foundation. I also serve teachers as a member of the Educolor Collective Steering Committee. And I co-founded #DisruptTexts 2018.