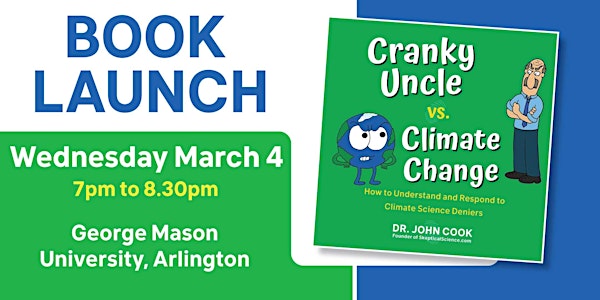 Book launch: Cranky Uncle vs. Climate Change
When and where
Location
George Mason University Room 134, Van Metre Hall 3351 Fairfax Drive Arlington, VA 22209
Description
Join us to celebrate the launch of Cranky Uncle vs. Climate Change by Dr. John Cook. Come hear author John Cook discuss his work, answer questions from the audience, and sign copies of his book. Books will be available for sale at the event.
About Cranky Uncle vs. Climate Change
CRANKY UNCLE vs. CLIMATE CHANGE: How to Understand and Respond to Climate Deniers helps young adults and fledgling climate leaders explain to science deniers – like the proverbial cranky uncle –precisely how we got to this point, how to spot the telltale characteristics of science denial using easy-to-grasp visuals that are instructive and funny, and how to counter them.
Written by Dr. John Cook, founder of the website Skeptical Science—which provides resources, data, and science used to prove the irrefutable evidence of climate change—he has ingeniously blended together his skills as a cartoonist, his Ph.D in the cognitive psychology of misinformation, and reams of data to create a unique book that will help you spot myths and fallacies to counter science and solutions deniers.