Description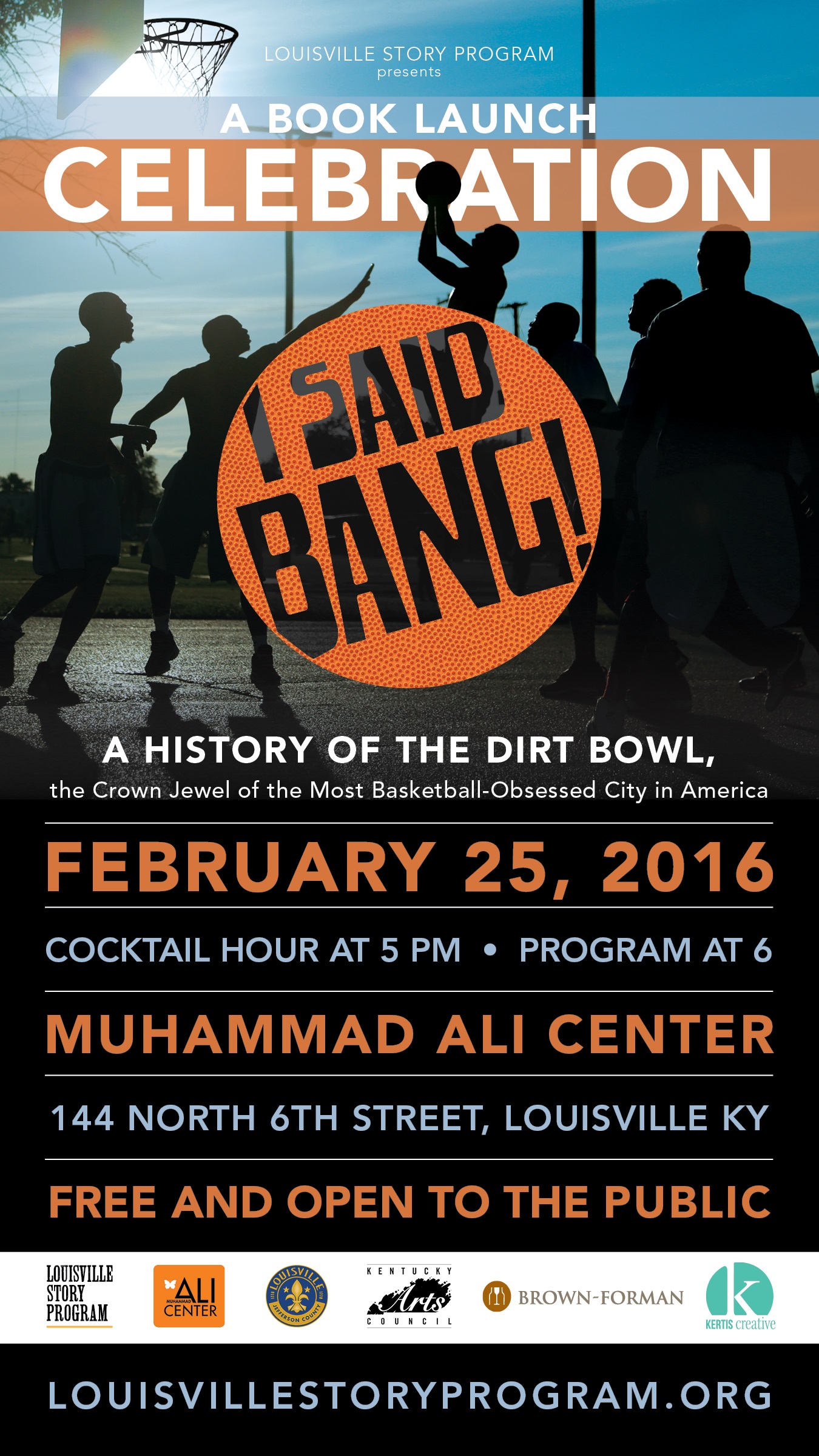 Join us in celebrating the publication of I Said Bang!: A History of the Dirt Bowl in beautiful View Pointe Hall on the 6th floor of the Muhammad Ali Center. Coctail hour begins at 5:00, and at 6:00 we'll begin a one-hour program that includes readings by book contributors. Stick around afterward to mingle and to get your book signed. Most of the 37 contributors to the book will be there, as will numerous other people who have been involved with the Dirt Bowl over the years. This event is free and open to the public. See below for more about the book.

In 1969, not long after devastating loss of Dr. Martin Luther King, Jr. and the subsequent 1968 riot in Louisville, Kentucky, two college students (Ben Watkins and Janis Carter) started a community basketball tournament in Louisville's Algonquin Park. It blossomed almost instantly and played a significant role in bringing the community together. By the end of that summer, thousands of people packed the park every weekend to connect with one another and to watch high-level basketball featuring the best players in the region: members of the Kentucky Colonels (the local professional team), star college and high school players, and sandlot legends tested their skills against one another in the Dirt Bowl. It was the biggest event of that year for a great many people.

The rest is history. The Dirt Bowl continues to this day, and it is an amazing part of our heritage in Louisville. Generations of Louisvillians have bonded, reunited, competed, laughed, shown off, and celebrated one another at the Dirt Bowl over the years. Louisville is the nation's most basketball-obsessed city, so it is fitting that basketball has provided the spark for so much community building.

Dozens of people who have been involved in the Dirt Bowl over the years (as organizers, players, spectators, announcers, referees, vendors, coaches, and mentors) collaborated with the Louisville Story Program to develop this book, which weaves together a wide variety of stories and experiences in the form of oral histories, original writing, and photographs. It begins with accounts of what it was like growing up in various Louisville neighborhoods in the 1950s and 1960s, then describes how the Dirt Bowl was founded, developed and sustained over the years, illustrating what it has meant to families and neighborhoods and athletes and why. Contributors discuss their personal successes and struggles and how the Dirt Bowl has played a role in their lives.

Contributors include: Derek Anderson, Phillip Bond, Cornell Bradley, James Caldwell, Janis Carter, Ravon Churchill, David Cosby, Ralph "Boobay" Cox, Ray Cunningham, Howard Duncan, Stephanie Edwards, Paul Gardner, Shawn Grady, Gerald Gray, Darrell Griffith, Wilbur Hackett, Sr., Carlo Hayes, Tanisha A. Hickerson, Wade Houston, Elwood Johnson, Jay Johnson, Chester King, Ron King, David McConico, Thurman Mitchell, Robert Mitchem, Jamico Morris, Jason Osborne, Valerie Owens-Combs, Dee Dee Polk, Neal Robertson, Jason Rushin, Nathaniel R.A. Spencer, Dallas Thornton, George Tinsley, Michael Turner, and Ben Watkins.