Description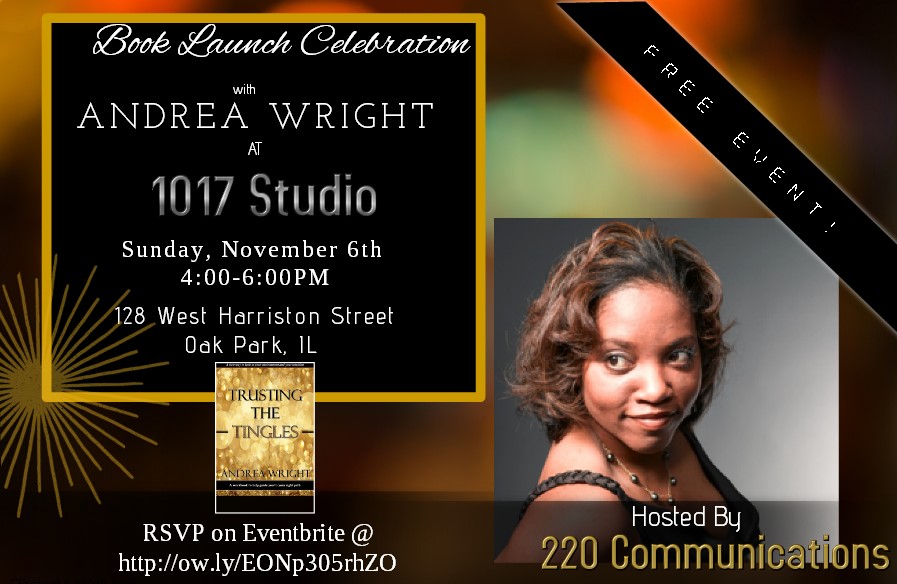 Join us as we celebrate the release of "Trusting the Tingles" by author /motivator Andrea Wright .
A 15 year veteran of Corporate America, Andrea Wright has been successfully promoted to roles ranging from Customer Service Manager to Digital Marketing Director to Assistant Vice President managing order entry staff, Assistant Managers as well as Sr. Managers in the following industries: finance, pharmaceutical and corporate retail.
Andrea uses her life and career coaching skills to motivate her staff to be the best they can be, contributing to the company (by way of promotion) or personally (returning to school). Andrea received her BA degree from the University of Illinois (Psychology/Advertising) and studied at the Southwest Institute of Healing Arts (Career/Life Coaching). Coupled with a love for life and a caring heart, Andrea has the know-how to creatively coax the best out of her clients. If you find yourself at a crossroads in life, there's no better person to help you get back on the (W)right path.
About "Trusting The Tingles"
In life we experience moments: some are more unique than others and many are hard to communicate in words. They're better described as a feeling and, sometimes, they come across as a chill, thrill or a tingle. Meeting someone for the first time and they feel familiar in some way Hearing a song that captures the exact message you need to hear at that moment Waking from a dream, and knowing there was a message there for you, or maybe a visit from a loved one As a life coach, I've witnessed many of the moments. Using examples from my life, I explore the many ways we experience tingles. In Trusting the Tingles, Ms.Wright has created exercises to help you identify what your environment is telling you to help you navigate your life and get you on your right path!
Admission is free and this event is open to the public
RSVP for this event is appreciated.
Pick up your advanced copy of Trusting the Tingles
https://www.amazon.com/Trusting-Tingles-Andrea-Wright/dp/1513607901/ref=sr_1_fkmr0_1?ie=UTF8&qid=1476474014&sr=8-1-fkmr0&keywords=Trusting+The+Tingles+s