NYU SPS Human Capital Management is hosting the virtual book launch for Rob Cross' new release, Beyond Collaboration Overload.
About this event
This exciting online event includes a special talk by author Rob Cross, followed by a Q&A forum facilitated by Dr. Anna Tavis, Academic Director of the Human Capital Management Department at the NYU School of Professional Studies.
ABOUT THE BOOK
Most organizations have created always-on work contexts that are burning people out and hurting performance rather than delivering productivity, innovation and engagement. Collaborative work consumes 85% of employees' time and is drifting earlier into the morning, later into the night, and deeper into the weekend. The dilemma is that we all need to collaborate more to create effective organizations and vibrant careers for ourselves. But conventional wisdom on teamwork and collaboration has created too much of the wrong kind of collaboration, which hurts our performance, health and overall well-being.
In Beyond Collaboration Overload: How to Work Smarter, Get Ahead, and Restore Your Well-Being, Babson professor Rob Cross solves this paradox by showing how top performers who thrive at work collaborate in a more purposeful way that makes them 18-24% more efficient than their peers. Good collaborators are distinguished by the efficiency and intentionality of their collaboration--not the size of their network or the length of their workday. Through landmark research with more than 300 organizations, in-depth stories, and tools, "Beyond Collaboration Overload" will coach you to reclaim close to a day a week when you: Identify and challenge beliefs that lead you to collaborate too quickly; Impose structure in your work to prevent unproductive collaboration; Alter behaviors to create more efficient collaboration. It then outlines how successful people invest this reclaimed time to: Cultivate a broad network--not a big one--for innovation and scale; Energize others--a strong predictor of high performance; Connect with others to reduce micro-stressors and enhance physical and mental well-being.
ABOUT THE AUTHOR
For more 20 years, Rob Cross has studied the underlying networks of effective organizations and the collaborative practices of high performers. Working with more than 300 organizations and reaching thousands of leaders from the front line to the C-suite, he has identified specific ways to cultivate vibrant, effective networks at all levels of an organization and any career stage.
Currently the Edward A. Madden Professor of Global Leadership at Babson College in Wellesley, Massachusetts, Rob is also the co-founder and research director of the Connected Commons consortium of over 100 leading organizations accelerating network research and practice.
He has written over 50 articles for Harvard Business Review, Sloan Management Review, California Management Review, Academy of Management Executive and Organizational Dynamics. His work has also been repeatedly featured in venues such as Business Week, Fortune, The Financial Times, Time Magazine, The New York Times, The Wall Street Journal, CIO, Inc. and Fast Company.
A graduate of the University of Virginia's McIntire School of Commerce (where he later taught), Rob earned an MBA from UVA's Darden School and completed doctoral work at Boston University.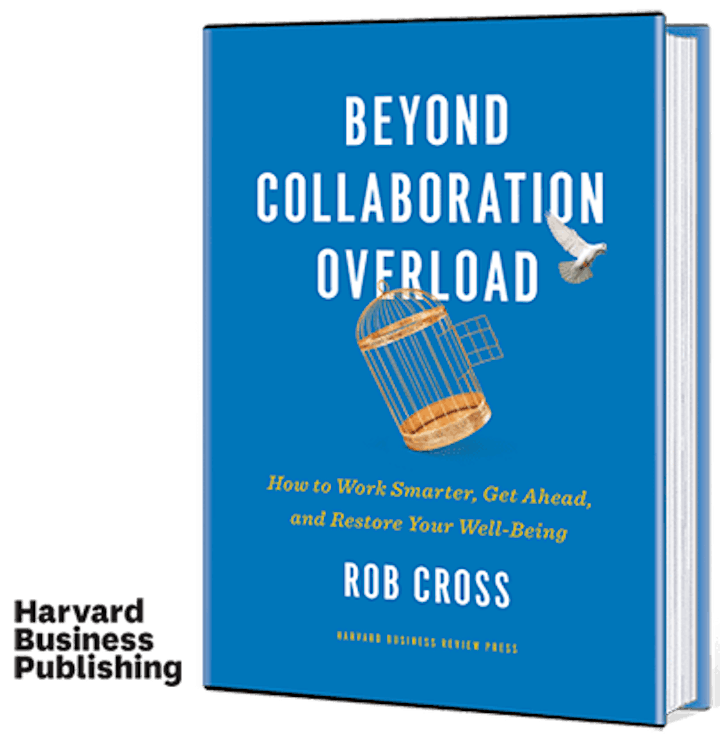 Organizer of Book Launch: Beyond Collaboration Overload with Rob Cross