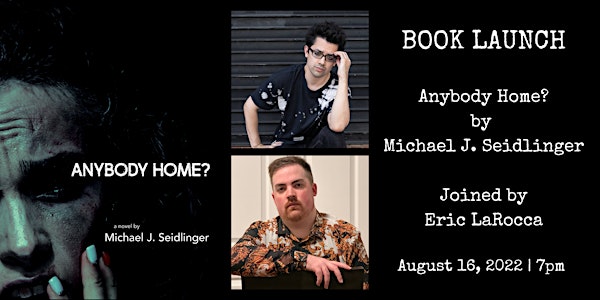 Book Launch: Anybody Home? by Michael J. Seidlinger
Celebrate the launch of Anybody Home? with authors Michael J. Seidlinger and Eric LaRocca at Trident Booksellers and Cafe!
When and where
Location
Trident Booksellers & Cafe 338 Newbury Street Boston, MA 02115
About this event
ABOUT THE BOOK
The new novel from My Pet Serial Killer author Michael J. Seidlinger, Anybody Home? centers on one of the horror genre's oldest and most terrifying tropes -- home invasion -- in a page-turning, macabre story that will have its reader double-checking their door locks and confronting deep questions within themselves about their role as spectator.
Narrated by a sadistic, seasoned invader with multiple break-ins under their belt as they recount their dark victories while offering tutelage to a new generation of ambitious offenders, Anybody Home? is sure to shock and unsettle even the most hardened of horror fans as Seidlinger points the camera lens at the quiet, comfortable suburbs and its unsuspecting abodes.
Drawing inspiration from films like Funny Games and The Strangers, sensitive readers be warned: Anybody Home? is as relentlessly bone-chilling as it is compulsively readable, and trumps any jump-scares you might find in a supernatural thriller. In this story, the monsters are real.
MICHAEL J. SEIDLINGER is a Filipino American author of Anybody Home? (CLASH Books), Runaways: A Writer's Dilemma (Future Tense Books), Scream (part of Bloomsbury's Object Lessons series), and other books. He has written for, among others, Wired, Buzzfeed, Thrillist, Goodreads, The Observer, Polygon, The Believer, and Publishers Weekly. He teaches at Portland State University and has led workshops at Catapult, Kettle Pond Writer's Conference, and Sarah Lawrence. You can find him online on Twitter (@mjseidlinger) and Instagram (@michaelseidlinger) and his website https://michaeljseidlinger.com/
ERIC LAROCCA (he/they) is the author of several works of horror and dark fiction including the viral sensation Things Have Gotten Worse Since We Last Spoke. A lover of luxury fashion and an admirer of European musical theatre, Eric can often be found roaming the streets of his home city, Boston, MA, for inspiration. For more information, please follow @hystericteeth on Twitter/Instagram or visit ericlarocca.com.