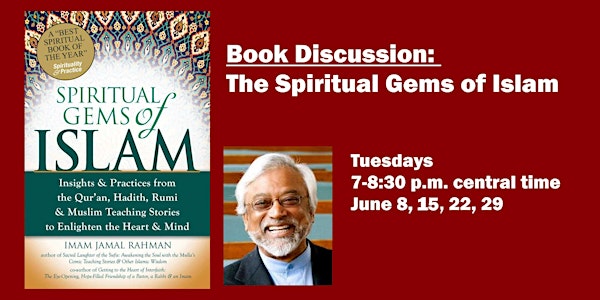 Book Discussion: Spiritual Gems of Islam
Join us to explore this practical guide for spiritual seekers of any faith, Spiritual Gems of Islam: Insights and Practices from the Qur'an
Refund Policy
Contact the organizer to request a refund.
Eventbrite's fee is nonrefundable.
About this event
Explore the richness of Imam Jamal Rahman's book, Spiritual Gems of Islam: Insights and Practices from the Qur'an, Hadith, Rumi and Muslim Teaching Stories to Enlighten the Heart and Mind. Dennis Coday and Lucia Ferrara will lead the sessions.
Tuesdays 7-8:30 p.m. central time
June 8, 15, 22, 29
Live Zoom Event
Click here if you'd prefer the Saturday morning book group.
This book serves as a practical guide for spiritual seekers of any faith, or none, who wish to live life with the awareness and intentionality that arises from perennial wisdom and insight.
We are invited to access the treasure chest of Islamic spirituality, particularly Sufism, to use its wealth to strengthen, nurture, and nourish our own spiritual life. Regardless of where you are on your spiritual journey, the book offers gems that are worthy additions to your own treasure chest within.
There is no charge for the discussions (free will offerings accepted), but you will need to purchase a copy of Imam Rahman's book. After you register, you will receive information on how to make that purchase. If you cannot afford or need help purchasing the book, please contact the Renewal Center (info@pbrenewalcenter.og).
Of his book, Imam Rahman says, "My prayer is that these timeless spiritual gems will illuminate your chosen path and, by grace of God, provide joy and practical guidance for your personal journey into the fullness of your sacred being.
Praise for Spiritual Gems of Islam
"Beautiful, helpful, and timely…All those interested in the spiritual life, God, interfaith dialogue, peace and our shared human journey through life will find this to be a treasure trove of wisdom and spiritual insight."
— Fr. John Dear, Catholic priest and teacher of nonviolence
"Whether you have read these classic Islamic teachings before or they are new to you, you will find wisdom, deepen your compassion and enrich your spiritual life."
— Amir Hussain, a scholar of Islam
"As a lifelong seeker of the world's wisdom in every tradition, this is the book I have been waiting for."
— In the words of Mirabai Starr, author and interfaith scholar