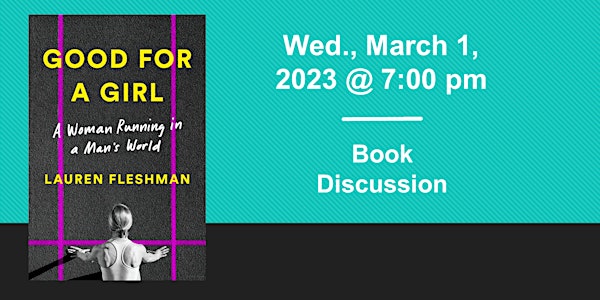 Book Discussion: Good for a Girl
Please join us for a facilitated book discussion of Lauren Fleshman's memoir, "Good for a Girl: A Woman Running in a Man's World."
Date and time
Wednesday, March 1 · 4 - 5pm PST
About this event
Please join us for a facilitated book discussion of Lauren Fleshman's memoir, "Good for a Girl: A Woman Running in a Man's World" (2023) (286 pages). Members Lauren S. Fassler and Jason Davidson will lead the discussion on March 1st, the first day of Women's History Month 2023.
In this story, Fleshman (age 41), a retired elite runner, inspires us with her personal story. She's now a coach, entrepreneur, motivational speaker, author, mother, and advocate for women in sports. In this book, Fleshman goes beyond her personal experience to comment on how competitive sports is failing young female athletes. She also proposes reforms to provide a better way for female athletes in the future.
Already, this 2023 book has received a number of accolades. It was featured on NPR's Fresh Air and in articles in The Atlantic, Outside, Runner's World, and The Wall Street Journal.
All DC Tri Club members, along with other sports book readers, are welcome. Plus, there's no requirement to have finished reading the book. We welcome athletes who want to combine the book discussion with a trainer or treadmill workout.
RSVP if you would like us to send you the Zoom info about a week before the meeting.