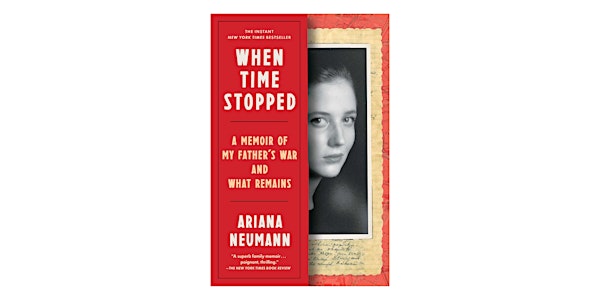 Book Club: When Time Stopped
This month, the LBI Book Club will read and discuss When Time Stopped with author Ariana Neumann.
Refund Policy
Contact the organizer to request a refund.
Eventbrite's fee is nonrefundable.
About this event
Please note that the Zoom link to the program can be found at the bottom of your registration confirmation email. This information will also be emailed to you via Eventbrite the day before the event at 9:00 AM EDT and 30 minutes prior to the event.
If you are not able to attend, the opening remarks from this program will be recorded and emailed to everyone who registers.
About the Book
In this astonishing story that "reads like a thriller and is so, so timely," (BuzzFeed) Ariana Neumann dives into the secrets of her father's past. "Like Anne Frank's diary, it offers a story that needs to be told and heard" (Booklist, starred review).
In 1941, the first Neumann family member was taken by the Nazis, arrested in German-occupied Czechoslovakia for bathing in a stretch of river forbidden to Jews. He was transported to Auschwitz. Eighteen days later his prisoner number was entered into the morgue book.
Of thirty-four Neumann family members, twenty-five were murdered by the Nazis. One of the survivors was Hans Neumann, who, to escape the German death net, traveled to Berlin and hid in plain sight under the Gestapo's eyes. What Hans experienced was so unspeakable that, when he built an industrial empire in Venezuela, he couldn't bring himself to talk about it. All his daughter Ariana knew was that something terrible had happened.
When Hans died, he left Ariana a small box filled with letters, diary entries, and other memorabilia. Ten years later Ariana finally summoned the courage to have the letters translated, and she began reading. What she discovered launched her on a worldwide search that would deliver indelible portraits of a family loving, finding meaning, and trying to survive amid the worst that can be imagined.
A "beautifully told story of personal discovery," (John le Carré) When Time Stopped is an unputdownable detective story and an epic family memoir, spanning nearly ninety years and crossing oceans. Neumann brings each relative to vivid life, and this "gripping, expertly researched narrative will inspire those looking to uncover their own family histories" (Publishers Weekly). (description taken from Amazon)
About the Author
Ariana Neumann was born and grew up in Venezuela. She has a BA in History and French Literature from Tufts University, an MA in Spanish and Latin American Literature from New York University and a PgDIP in Psychology of Religion from University of London. She previously was involved in publishing, worked as a foreign correspondent for Venezuela's The Daily Journal and her writing has appeared in a variety of publications including The European, the Jewish Book Council, and The New York Times.
Learn more about When Time Stopped here, and read a review in The New York Times.
Getting the Book
When Time Stopped can be found in most library systems and is in stock in numerous bookstores. You can also purchase it here.