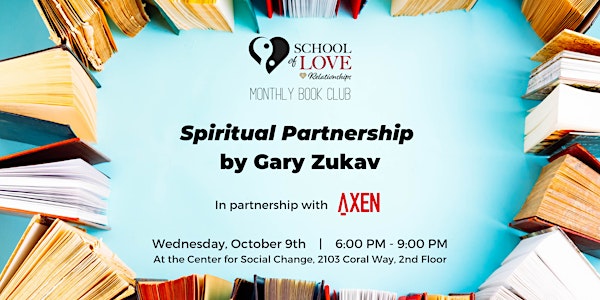 Book Club: Spiritual Partnership by Gary Zukav
An open and engaging book discussion about 'Spiritual Partnership – The Journey to Authentic Power' by Gary Zukav.
When and where
Location
Center for Social Change 2103 Coral Way 2nd Floor Miami, FL 33145
About this event
Join us for an open and engaging book discussion about Spiritual Partnership by Gary Zukav. Snacks and light refreshments are included.
From the Prologue
This is a book about change: Great changes are occurring in our world.
This is a book about possibilities: We are being called to new experiences, insights, motivations, and creations that are beyond our ability to imagine, beckoning us to new destinations and yet more new possibilities.
This is a book about power: We are evolving from an old kind of power (external power that focuses on manipulation and control) to a new kind of power (authentic personal power) that involves a focus on supporting life and personal growth. The old kind of power enabled civilization to survive and expand but now it's producing more and more violence and destruction. Like medicine that starts to produce dangerous side effects, the old power has become poisonous to us and the environment. The new kind of power—authentic power—is a tonic that focuses on nurturing life of the individual and the environment, enabling greater spiritual growth to occur.
Change, possibilities, and power are occurring in ways that we could not have imagined, ways that have the ability to reshape the entire human experience. New values, goals, and intentions are everywhere appearing like grass in the spring.
This unprecedented transformation in human experience has two parts. We call them "the Gift" and "the Work."
The Gift is an expansion of human awareness and perception = becoming multi-sensory beings. This Gift is happening automatically. No one needs to do anything to make it happen. The Gift is occurring in millions of individuals, and soon the Gift will occur in all humans.
The Work is to create authentic power, but the process requires that you choose to do it – it won't happen on its own. The Work involve first experiencing in yourself, and then changing, the interior sources of destructive thoughts like:
painful emotions of fear, powerlessness, anger, jealousy, vengefulness,
obsessive thoughts like judging yourself or others,
longing for someone or something to change your life for you,
compulsive activities like workaholism or perfectionism, and
addictive behaviors like overeating, smoking, alcohol, drugs, gambling.
It also cultivates experiencing and nurturing interior sources of pleasing experiences of emotions like gratitude, contentment, appreciation, and awe of Life.
In short, the Work will open you to a fulfilling and joyful life that is calling to you. ... It will help you to discover and challenge any part of your personality that is an obstacle to what your soul intends and then it will find and support the parts of your personality that want to help you create that which is the intention of your soul.
Agenda
6:00 PM – 7:00 PM: Snacks and mingling
7:00 PM – 9:00 PM: Book Discussion facilitated by Bill Burdette
If you haven't read the book or the summary and you're not sure if you should attend, come anyways! You'll get an opportunity to understand the content of the book during the conversation.
You can find a summary of the book here.
Location and Directions
We will be meeting on the 2nd floor at the Center for Social Change (C4SC). C4SC is located on the corner of Coral Way and SW 21st Avenue in the offices above Xixon restaurant, on the second floor.
If you're traveling by car: There are metered spaces on Floor 2A of the parking garage attached to 2103 Coral Way. Floor 2A also has paid disabled permit parking and paid electric vehicle recharging stations. You can pay with the ParkJockey, or Pay-by-Phone app (code: 34031). There is also metered street parking adjacent to the building payable with Pay-by-Phone and there is some free street parking in the surrounding neighborhood, especially south of Coral Way. Be sure to observe "Residents Only" and "No Parking" areas.
If you're traveling via mass transit: Miami-Dade Bus #24 and the free City of Miami Coral Way Trolley both stop just around the corner from the building. Both bus lines connect to the Vizcaya Metrorail Station at Coral Way and SW 12th Ave.
If you're traveling by bike: Bicycle racks can be found along the sidewalk in front of the building and in the garage.