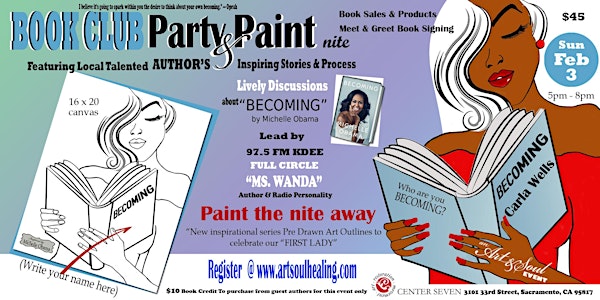 Book Club Party & Paint Nite
When and where
Location
Center Seven 3101 33rd Street Sacramento, CA 95817
Description
BOOK CLUB PARTY & PAINT NITE
Featured Book "BECOMING" by Michelle Obama
Lively Discussion lead by
97.5 FM Full Circle's
Ms. Wanda
DATE: Feb 3, 2019
TIME: 5 pm – 8 pm
LOCATION: Center Seven 3101 33rd Street, Sacramento, CA 95817
An Art & Soul Speakers Series Event Book Club Party & Paint Nite!
The time couldn't be more right than right now to launch this event with our "NEW" Inspirational Pre Drawn Art Outline Series and so much excitement around "BECOMING" by Michelle Obama. "She just opens up herself; it's so vulnerable. ... It is Michelle Obama's personal story, of course, but I believe it's going to spark within you the desire to think about your own becoming." — Oprah
WHO IS THIS FOR? Adults Both Men & Women
ACTIVITIES
An energetic night focused around a lively discussion about books, starting with "BECOMING" by Michelle Obama. Listen to inspirational stories and processes from local award-winning authors, newly published authors as well as aspiring ones as they share the stage. The night will be interwoven with a Paint & Sip as a commemorative take-home art piece inspired by Michelle Obama.
GUEST AUTHORS
By invitation, each author will have 15 minutes to speak about their works and the journey of writing their books. They will be displaying their book(s) and products and will be available to a meet & greet and sign books throughout the event as well as Q & A time.
WHY WE DO WHAT WE DO!
On Sunday, February 3rd Art & Soul's FREE Art & Healing Cohort 6-Week Program will be in week 4 Written/Spoken Word. The extension event a Book Club Party & Paint will be from 5 pm – 8 pm ties into that modality for our program participants.
The PURPOSE is three fold
(1) Activation, Restoration and Teaching, Art & Soul's speaker series was created to encourage our program participants to take action, in order to step into their purpose and share their gifts and talents with the world. The invited special guest authors/speakers are in motion and have already taken steps, and are actively engaged, practicing and serving to utilize their gifts and talents. We have these authors to share their journey and process at this Book Club Party & Paint Nite for the purpose of advocating A.R.T.
We believe the influence of seeing others demonstrate what they do well, bolsters Activation and show evidence of the power in self-belief. Restoration of the soul will help aspiring authors and program participants build the courage and confidence needed in order to do the work within and through learning they can then inspire others by Teaching what we know. Life transforming lessons and experiences can then impact the lives of their families, communities and the world. Share your heART!
(2) Program Sustainability, we need funds in order to serve communities with this FREE program, creating paid events like this keeps the program fresh and exciting while also raising the funds to support it.
(3) Partnership Support Venues, Guest Speakers
Part of the proceeds from ticket sales will go to support the Free Art & Healing Cohort 6-Week Program and a portion will go to support the Guest Speakers like authors, artist and other creative's supporting our program.