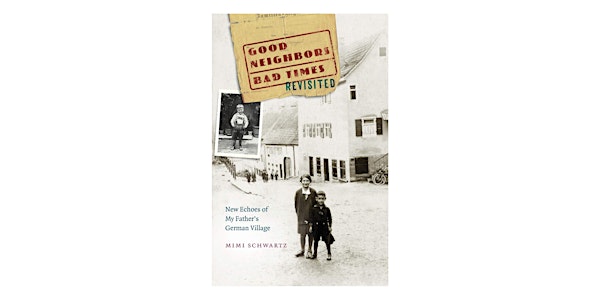 Book Club: Good Neighbors, Bad Times Revisited
This month, the LBI Book Club will read and discuss Good Neighbors, Bad Times Revisited with author Mimi Schwartz.
Refund Policy
Contact the organizer to request a refund.
Eventbrite's fee is nonrefundable.
About this event
Please note that the Zoom link to the program can be found at the bottom of your registration confirmation email. This information will also be emailed to you via Eventbrite the day before the event at 9:00 AM EDT and 30 minutes prior to the event.
If you are not able to attend, the opening remarks from this program will be recorded and emailed to everyone who registers.
About the Book
Mimi Schwartz's father was born Jewish in a tiny German village thirty years before the advent of Hitler when, as he'd tell her, "We all got along." In her original memoir, Good Neighbors, Bad Times, Schwartz explored how human decency fared among Christian and Jewish neighbors before, during, and after Nazi times. Ten years after its publication, a letter arrived from a man named Max Sayer in South Australia. Sayer, it turns out, grew up Catholic in the village during the Third Reich, and in 1937 moved into an abandoned Jewish home five houses away from where the family of Schwartz's father had lived for generations before fleeing to America a few months earlier. The two families had never met.
Sayer wrote an unpublished memoir about his childhood memories and in Schwartz's new edition, Good Neighbors, Bad Times Revisited, the two memoirs talk to each other. Weaving excerpts from Sayer's memoir and from a yearlong correspondence with him into her book, Schwartz revisits village history from a new perspective, deepening our understanding of decency and demonization. Given the rise of xenophobia, white supremacy, and antisemitism in the world today, this exploration seems more urgent than ever. (description taken from Thrift Books)
Learn more about the book in this video, and read a review in the Boston Globe.
About the Author
Mimi Schwartz is the author of seven books, most recently, Good Neighbors, Bad Times Revisited: Echoes of My Father's German Village (2021); When History Is Personal; Thoughts from a Queen-Sized Bed and Writing True, the Art and Craft of Creative Nonfiction (with co-author Sondra Perl). Her short work has appeared in Ploughshares, Tikkun, The New York Times, The Missouri Review, Fourth Genre, Creative Nonfiction, and The Boston Globe, among others. Ten essays have been Notables in Best American Essays and she is recipient of a McDowell Fellowship, Geraldine R. Dodge Fellowship, and Editor's Prize of The Florida Review, New Hampshire's Best Literary Nonfiction Award and a Foreword Magazine Award for Best Memoir in 2008. She is Professor Emerita in Writing at Stockton University and lives in Princeton, New Jersey.
Getting the Book
Good Neighbors, Bad Times Revisited is available in both print and digital forms from the University of Nebraska Press here.