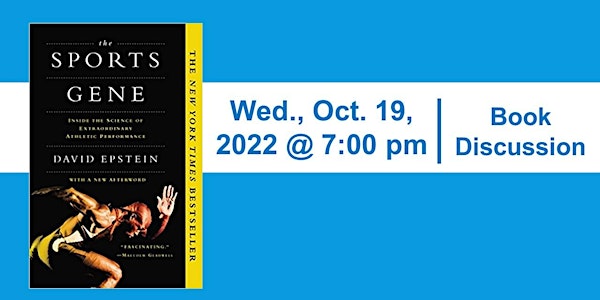 Book Club Discussion: The Sports Gene
Join us for a facilitated book discussion of David Epstein's "The Sports Gene: Inside the Science of Extraordinary Athletic Performance"
About this event
Please join us for a facilitated book discussion of David Epstein's "The Sports Gene: Inside the Science of Extraordinary Athletic Performance" (2013) (368 pages). Members Lauren S. Fassler and Jason Davidson will lead the discussion while fellow member Bryan Frank provides additional context based on his scientific expertise. Bryan, a former club president, works as a scientific project manager specializing in genomic research at J. Craig Venter Institute.
Nature v. Nurture – or what makes an excellent athlete excel – it's a never-ending debate among athletes for generations, and we're interested in hearing your thoughts on this topic after reading "The Sports Gene" by David Epstein. Epstein, a former college runner, is well-known as a Sports Illustrated writer with a special interest in sports science, including the science of athletic performance.
In this book, Epstein brings scientific evidence, case studies, and fresh perspectives on the athletic nature-nurture debate in a manner that's easily accessible to the non-scientific reader. In reviewing the importance of practice versus genetics, for example, Epstein uses the tech analogy of software and hardware to deliver some key points. He also shares interesting studies on such mental toughness attributes as motivation, commitment, and determination – all of which may be considered both innate talents and a skills that can be developed.
This book is available in multiple formats – including e-book and audio – and is carried by a number of local libraries. Happy Reading!
All DC Tri Club members, along with other sports book readers, are welcome. Plus, there's no requirement to have finished reading the book. We welcome athletes who want to combine the book discussion with a trainer or treadmill workout.