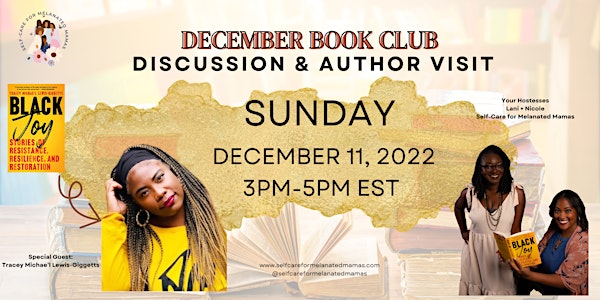 Book Club Discussion: Black Joy by Tracey Michae'l Lewis-Giggetts
This book is an absolute must-read for black women! Join us in a virtual discussion in our private online community!
About this event
We are so excited to have the author, Tracey Michae'l Lewis-Giggetts, joining us to discuss her latest book, Black Joy Stories of Resistance, Resilience, And Restoration. Tracey Michae'l Lewis-Giggetts is the author of eighteen books, and the host of the podcast HeARTtalk with Tracey Michae'l. Her writing has appeared in various publications, including The Washington Post, Essence, Oprah Daily, and more.
With deeply personal and uplifting essays in the vein of Black Girls Rock, You Are Your Best Thing, and I Really Needed This Today, this is "a necessary testimony on the magic and beauty of our capacity to live and love fully and out loud" (Kerry Washington).
When Tracey M. Lewis-Giggetts wrote an essay on Black joy for The Washington Post, she had no idea how deeply it would resonate. But the outpouring of positive responses affirmed her own lived experience: that Black joy is not just a weapon of resistance; it is a tool for resilience.
With this book, Tracey aims to gift her community with a collection of lyrical essays about how joy has evolved, even amid trauma, in her own life. Detailing these instances of joy in the context of Black culture allows us to recognize the power of Black joy as a resource to draw upon and to challenge the one-note narratives of Black life as solely comprised of trauma and hardship.
"Lewis-Giggetts etches a stunning personal map that follows in her ancestors' footsteps and highlights their ability to take control of situational heartbreak and tragedy and make something better out of it….A simultaneously gorgeous and heartbreaking read" (Kirkus Reviews, starred review).
Message from Nicole, your host:
I listened to the author on the Therapy for Black Girls podcast and knew I wanted to read this book with my melanated mama tribe! It's a longer book, so as soon as the October book club is done, we will start reading a chapter a day together! Make sure to click here to follow the Book Club Discussion Black Joy Topic so we can begin the conversation now and stay on target to finish reading the book in time.
I knew I wanted to own this book, so I purchased it, but you may be able to get it from your local library. If you choose to purchase, please use this link. https://amzn.to/3RQCNzu ** This is an affiliate link, and we will receive a small fee from Amazon if you purchase through our link; there is no additional charge to you help our small business!**
Note: You can only get access to this event in the Self-Care for Melanated Mamas Community. Use this link to join for free! https://self-care-for-melanated-mamas.mn.co/