Actions and Detail Panel
Book Club: Breaking White Silence
Sat, March 18, 2017, 10:00 AM – 12:00 PM PDT
Description
Difficult Conversations: Breaking White Silence
In assocation with the Phinney Neighborhood Association (PNA), Difficult Conversations: Breaking White Silence attempts to engage white people in conversations about race in the US using Robin DiAngelo's book, What Does It Mean To Be White? Various facilitators around the Seattle area are running book clubs based on this model, and this group is part of that effort.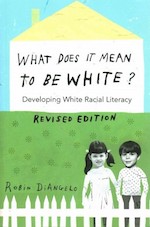 Our group will meet four times, March-May 2017, to discuss various chapters of the book and how they apply to our own lives. The location for these meetings is TBD, based on the response and the space available to us. If you are aware of a space we can use, please let the facilitator know. Meeting dates:
Saturday, March 18, 10:00am-12:00pm
Saturday, April 8, 10:00am-12:00pm
Saturday, April 29, 10:00am-12:00pm
Saturday, May 20, 10:00-12:00pm
Participants will need to procure their own copy of the book, available at many outlets for a list price of $39.95. We will be using the 2016 revised edition, but if you have access to the older version, we can make it work. Book sharing is encouraged in order to allow folks for whom the cost is a barrier access to this important conversation. The facilitator is happy to connect people who have the book to those who do not.
As part of the PNA's involvement, there will be a celebratory potluck gathering in June for all participants, attended by Dr DiAngelo.