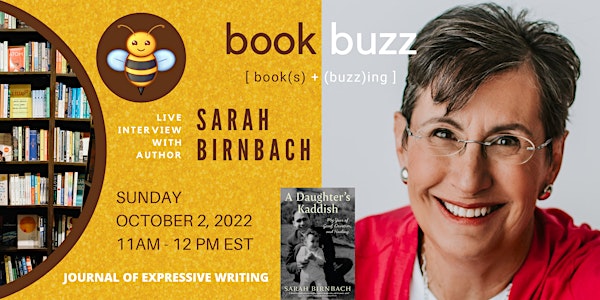 Book Buzz interview with Sarah Birnbach
Don't miss our Book Buzz interview on Sunday, October 2, 2022 at 11:00 AM EST with Award-Winning Bestselling Author Sarah Birnbach
About this event
The Journal of Expressive Writing is more than a publication. We aim to be an engaged and supportive community of writers and listeners. Giving our focused attention to each other's voices, stories and writing is a generous, necessary act of humanity, repair and celebration.
One way to deepen the content of the Journal is to broadcast live interviews with Journal of Expressive Writing's authors discussing their books. Readers can watch the host engage with each author around the deeper meanings of their book as a way to further enrich our readers' experience with curated expressive writing. Every month, the Journal BOOK BUZZ will interview a new author about their most recent book.
On October 2, 2022 at 11am EST, Producer and Host Angella Lee will interview Award-Winning Bestselling Author Sarah Birnbach about her most recent book, A Daughter's Kaddish: My Year of Grief, Devotion, and Healing, which recounts Sarah's year-long odyssey to persevere through an unfamiliar world of Jewish prayer and chart a course without a road map. A novice worshipper and single working mother, Sarah encountered many obstacles—including vehement objections to her recitation of the Mourner's Kaddish because of her gender, her own daughter's near-fatal car accident, an incident that tore her synagogue apart, and her mother's hostility and dismissiveness.
To honor her beloved father, Sarah commits to saying Kaddish twice a day in synagogue for eleven months, as is stipulated by her religion. Sarah attempts to incorporate these new religious and spiritual practices into her already hectic twenty-first-century life while struggling with the heavy emotional distress of grief. As she travels the country for work, Sarah must find a synagogue where she can pray in each city and town she visits, a challenge that brings many surprises—and upsets. Throughout her year of devotion, Sarah takes comfort in the loving memories of her childhood while at the same time grappling with some very painful ones—ultimately discovering how the path of faith and grief can lead to true healing.
About Sarah Birnbach
Sarah began her encore career as a non-fiction writer in 2016 after successful careers as a human resources management consultant and a family therapist in a juvenile court. She was a sought-after speaker at conferences and delivered more than 500 presentations and workshops. Through her professional life she dedicated herself to enabling individuals to become their best selves.
Sarah has never known a time when she wasn't writing. She has been journaling since a teen and her decades-long love of journaling led her to become one of the country's first certified journal facilitators—a designation from the Center for Journal Therapy. She has taught numerous journaling workshops and introduced journaling into her therapeutic work with families.
She is a six-time award winner in the Soul-Making Keats Literary Competition and a two-time award winner from Bethesda Magazine, and her articles have appeared in Talking Writing, Bookwoman, the Jewish Orthodox Feminist Alliance Journal, the Michigan Jewish History Journal, and Pen in Hand.
Her education includes a bachelor's degree in sociology from George Washington University, a master's degree in human resources from American University, and a master's degree in social work from the University of Maryland.
Sarah is a member of the Chevra Kadisha (Holy Fellowship)—women who perform the holy ritual of preparing a body for burial, midwifing the soul of the deceased from this world to the next. Additionally, she volunteers with Interfaith Works, an organization supporting the homeless, and works to eradicate racism.
Sarah's memoir, A Daughter's Kaddish: My Year of Grief, Devotion, and Healing is published by Wonderwell Press and HOT OFF THE PRESSES IN SEPT, 2022. Sarah recently retraced her father's footsteps through the frontlines of World War II Germany and is at work on her next book, In My Father's Footsteps.
All BOOK BUZZ events are FREE to attend and OPEN TO ALL, but you do need to Pre-Register here.
The Journal BOOK BUZZ is produced and hosted by Angella Lee.