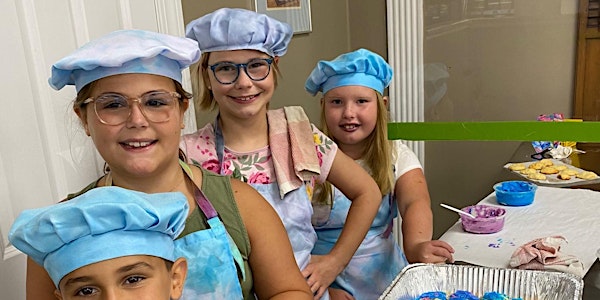 BOOK A PRIVATE BAKING EVENT FOR THE KIDS!
This class is for a private group of friends or family members, you choose your date!
When and where
Location
Vince's Gourmet Imports 440 South Main Street North Syracuse, NY 13212
About this event
This class is for a private group of friends or family members, who are getting together to cook OR BAKE!  The group decides what dish they want to create, all you have to do is contact Donna@Vincesgourmet.com and work out details.
Consider booking a private event at Vince's for your family or group of friends!
Choose from many Italian specialty dishes, pastas, or desserts!
Classes are fun, and you leave with whatever is prepared that evening!
Class price is per person. Private Children classes ages 8 to 16
Pricing is based on what items are being prepared
COOKING CLASSES
Our cooking classes provide you with a hands on opportunity to learn about Italian cuisine from our talented staff. Discover how to make pasta, delicious sauces, regional Italian dishes and much more. Classes can help bring a true taste of Italy to your family's table. Please plan to arrive 15 minutes before the class as they start promptly.
To view available cooking classes, pricing, dates and times, or to sign up for a class, go to www.vincesgourmet.com and follow the links to register. Registration for a class can also be done by visiting our store. To redeem a Vince's gift card, please call 315-452-1000 or stop in the store.
At this time, classes are limited to 6 people, reservations for classes are limited to ages 16 and older. If there is a question about a class, public or private, please email Donna @Vincesgourmet.com
You'll enjoy the following with each cooking class:
printed recipes for each dish prepared
The dish to bring home and enjoy
A 10% discount for in-store purchases
***Customers may bring their own adult beverages to class, water is provided, not for children classes
CLASS CANCELLATION POLICY
Reservations in our cooking classes are much like theater or sporting event tickets, please consider our classes that way.
You may reschedule or cancel as long as you notify us at least 14 days prior to your class.Students signed up for a class using our website, request a refund via the link provided in your email.
Students signed up in person contact Donna at donna@vincesgourmet.com to request a refund.There are no credits or refunds for less than 14 days notice. We encourage you to send someone in your place should you be unable to attend class. If you sign up for a class and do not show up for any reason the entire class fee is non-refundable, and no future credit will be given.
We will not cancel a class for weather, however if there is a "State of Emergency", Vince's will notify you of alternatives.
COVID-19 POLICY
Vince's Gourmet is taking appropriate measures to ensure the safety of all guests and staff through-out our store.
We have implemented new operating procedures in our store to follow the mandated guidelines from the CDC.
These changes include:
Reduced class sizes
Dividers have been added in cooking area
Temporarily eliminating family style meals
Social Distancing of six feet in classroom area and store
Facial coverings are required to be worn by guests when not at cooking station
Hand sanitizers and disinfectants readily available
Cooking instructor and all staff at Vince's will have facial coverings