Join us for a reading of RAINBOW: A FIRST BOOK OF PRIDE!
About this event
Boogie Down Storytime is a family-friendly experience that cultivates early literacy awareness through joyful reading experiences. Each storytime is led by our Storytime Manager Wesley Sanders, generally lasts about 45-60 minutes, and includes:
Interactive read-aloud by an author, illustrator, or educator
Q&A so young readers can engage directly with the reader
Routines like mindful breathing that build social-emotional skills
Welcome shoutouts to honor each individual child in our community
Movement inspired by the book, led by Bronx yoga teacher Jazy Cintron
Space at outdoor sites is extremely limited (5-10 families total, depending on the site). Pre-registration is required. Reserve your family's spot now to guarantee a space!
Need assistance to join us? Email info@boogiedownbooks.com.
This event will take place at Kelly Street Garden (924 Kelly Street) in the Bronx. To enter the garden, go down the stairs and through the tunnel into the backyard of the building at 924 Kelly Street.
Please note the following:
Boogie Down Books reserves the right to cancel on location events for any reason, including but not limited to weather and safety concerns. Cancelled events will be refunded but not rescheduled.
Boogie Down Books does not provide yoga mats or seating for on location events. Attendees are advised to bring their own chairs, mats, towels, or blankets if desired.
There is a risk of exposure to COVID-19 at all in-person events. Attendees assume all safety risks and agree to hold Boogie Down Books harmless for all incidents including exposure to COVID-19.
Attendees over the age of 2 must wear masks at all times, regardless of vaccination status, when less than 6 feet away from anyone not in their household. Violators will be asked to leave the event and will not be permitted to register for future events.
Public restrooms, water, and/or shade may not be available at our outdoor sites. Please plan accordingly.
We will do our best to ensure that all young readers are able to see the pictures during the reading, but social distancing guidelines may make this difficult. Please consider purchasing a copy of the book during registration.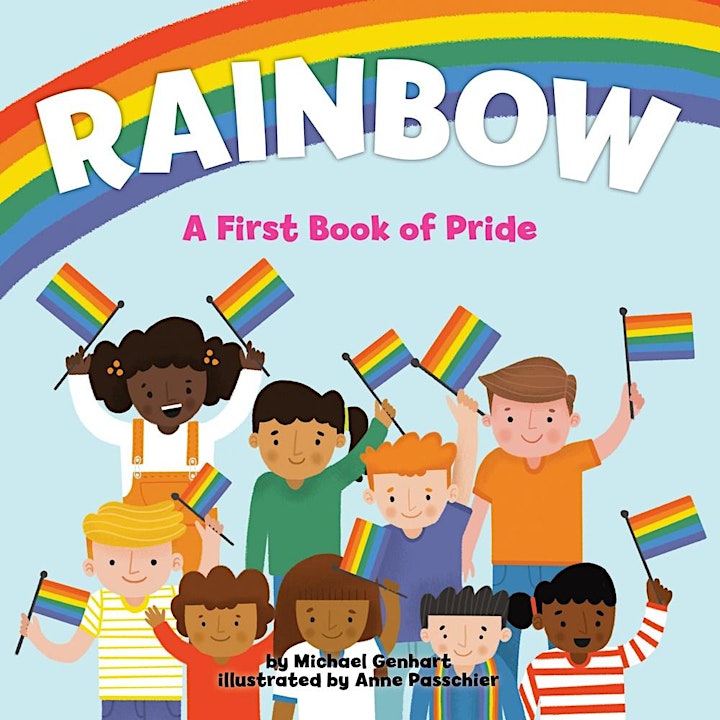 ABOUT Rainbow: A First Book of Pride:
A must-have primer for young readers and a great gift for pride events and throughout the year, beautiful colors all together make a rainbow in Rainbow: A First Book of Pride. This is a sweet ode to rainbow families, and an affirming display of a parent's love for their child and a child's love for their parents. With bright colors and joyful families, this book celebrates LGBTQ+ pride and reveals the colorful meaning behind each rainbow stripe. Readers will celebrate the life, healing, light, nature, harmony, and spirit that the rainbows in this book will bring.
CANCELLATION POLICY: Boogie Down Books reserves the right to cancel events for any reason, including but not limited to weather and safety concerns. Weather-related cancellations will be announced by 6pm EDT on Fridays. Cancelled events will not be rescheduled, but registered participants will receive credit for registration fees toward future Boogie Down Books events. Book purchases will be available for pickup from Mottley Kitchen.
CODE OF CONDUCT: Our event provides a harassment-free experience for everyone, regardless of gender, gender identity and expression, age, sexual orientation, disability, physical appearance, body size, race, ethnicity, religion (or lack thereof), or technology choices. We do not tolerate harassment in any form. Sexual language and imagery are not appropriate. Anyone violating these rules will be expelled from the event at the discretion of the organizers.
PHOTOS & RECORDING: Events may be recorded, and video and photos may be posted on our website, social media, and elsewhere. If you would prefer not to be visible, please ensure that your video is off.
PRIVACY: Registrants will be added to the Boogie Down Books mailing list. Your contact information will never be shared or sold. You may unsubscribe or update your subscription at any time.
Organizer of Boogie Down Storytime at Kelly Street Garden (June 26)
Boogie Down Books is a bookstore-without-walls for kids, teens, families, and educators in the Bronx and beyond.