Bonnie 'Prince' Billy & Matt Sweeney "Superwolves" with Emmett Kelly JONATHAN RICHMAN featuring TOMMY LARKINS at Gartner Auditorium
About this event
This show will be at the Gartner Auditorium at the Cleveland Museum of Art
presented by the GROG SHOP
Tuesday, March 1st, 2022
6pm doors / 7pm show
$27.50 in advance / $32 day of show
All Ages
Bonnie 'Prince' Billy & Matt Sweeney "Superwolves" with Emmett Kelly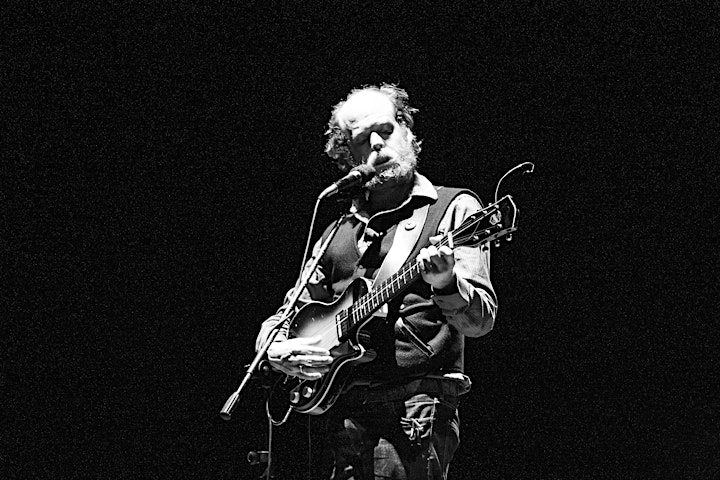 After a successful roll up and down California this summer, Matt Sweeney and Bonnie 'Prince' Billy are now set to prowl through select US cities again this fall in support of their sublime new Superwolves album! To bring the LP's songs new and newer life, these 'Wolves add frequent co-conspirator Emmett Kelly to the pack and promise to provide welcome assemblage for all creatures wherever they may roam!
If the simple thought of such magical communion as Matt Sweeney's guitar and Bonnie 'Prince' Billy's voice doesn't instantly send shivers down your spine (it's been a while since you've seen a show, huh?), we suggest listening to Superwolves now to fully feel it - and consider, dear reader, what many critical minds have said thus far about this inimitable album:
"[Superwolf] had a specific quality to it, arcane and majestic. Their new one is called Superwolves. Like that first outing, it's tremendous. Joined by sympathetic set of collaborators, the elemental dynamic remains clear at the center: Sweeney sings and plays electric guitar, Oldham sings with boundless grace about about grim realities, tender moments from hard people, and destiny." - Aquarium Drunkard
"This was an album that wasn't promised, but somehow makes good on every silent expectation that was welled up inside the waiting rabble who didn't know the call could be answered."- Raven Sings The Blues
"Superwolves serves the song, dressing up where needed, but always presenting them in the manner most direct, even when the songs may take a few listens to sink in and blossom. It's an album that sneaks up on you -- let it play through and play often." - Brooklyn Vegan
"a triumph of troubador-ism, a lilting and sad album that sparkles with seasoned musicianship." - Riff
"a fantastic record." - NPR Music
JONATHAN RICHMAN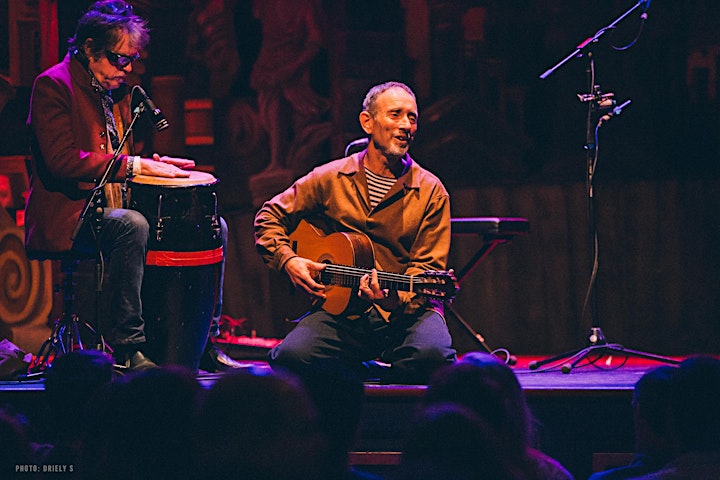 "Rhymes worthy of Ogden Nash." – The New York Times
"Richman didn't need much else besides a beat to work his magic." – New York Daily News
"Richman is one of America's most unique and dynamic songwriters…"
"Buy tickets early. Buy tickets often. This is just good general life advice, but even more so when you're talking about Jonathan Richman. Don't get denied at the door, don't leave things up to chance: You will regret it."
"Let Jonathan cast his spell."
"Richman has spent decades removing barriers between himself and his audience, cultivating an intimacy that is almost extinct in modern music." – Nashville Scene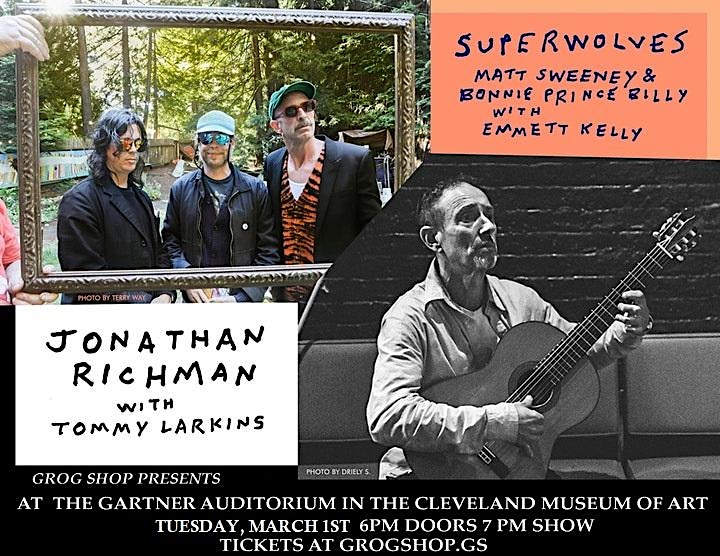 Performers
Date and time
Location
Refund policy
Organizer of BONNIE 'PRINCE' BILLY & MATT SWEENEY "SUPERWOLVES" / JONATHAN RICHMAN
The Grog Shop opened in September of 1992 in the Coventry Rd. neighborhood of Cleveland Heights. Though expanded in size when moved to it's current location in 2003, the club maintains the intimacy and raw character it has always been known for. We have a full bar with an extensive list of micro-brews, imports, and domestic beer, and of course plenty of liquor.