Bonnerfide Radio Anniversary Party - "The After Party"

Friday, January 17, 2014 at 9:00 PM

-

Saturday, January 18, 2014 at 12:30 AM (CST)
Event Details
Bonnerfide Radio presents "The After Party" 
Join us as we celebrate our anniversary and the success of the four time Stellar Award nominated station, Bonnerfide Radio. Many of Bonnerfide Radio's favorite artists will peform during this great event, "The After Party". This celebration will take place on Friday, January 17, 2014, 9:00 PM at The Listening Room Cafe in Nashville, TN 37201 during the weekend of the Stellar Awards. Food and beverages will be available for purchase.
The Bonnerfide Radio TweetUP will take place Thursday, January 16, 7:00 PM at The Club Hotel Nashville Inn& Suites, 2436 Atrium Way, Nashville, TN 37214. This year, we invite you to "Say It With Your Chest!", wear a T-Shirt that displays your business, a slogan, funny saying or your name! Come out and spend time with the BRC!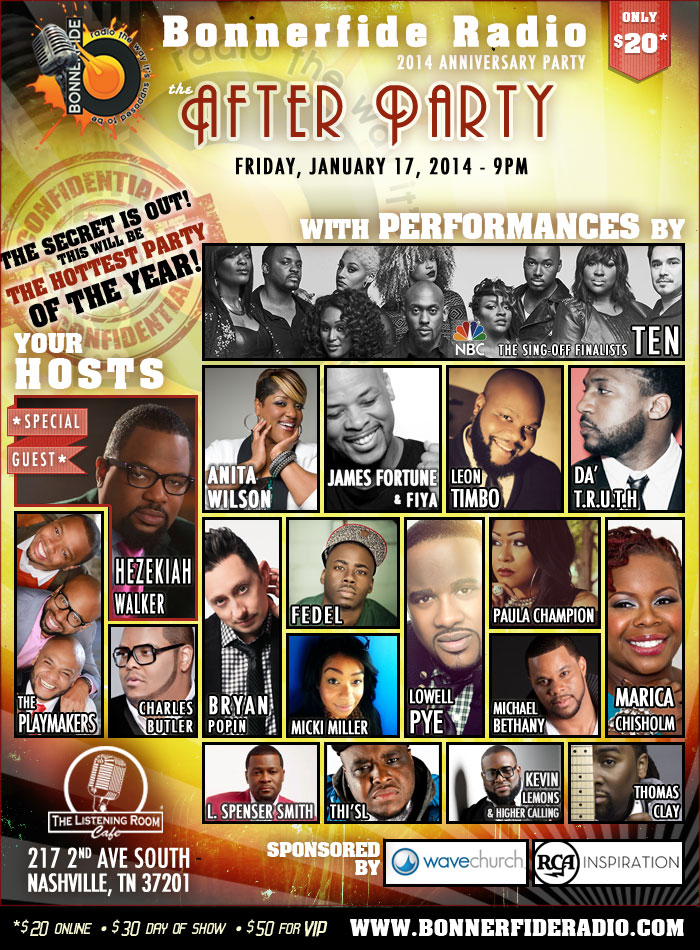 Bonnerfide Radio! It's radio the way it's supposed to be...
Special discount codes are not applicable to prior sales.
Refunds will not be issued.
Attendees are responsible for their own travel/lodging accomodations. Food and beverages will be available for purchase at The Listening Room Cafe.
When & Where

The Listening Room Cafe
217 2nd Avenue South
Nashville, TN 37201


Friday, January 17, 2014 at 9:00 PM

-

Saturday, January 18, 2014 at 12:30 AM (CST)
Add to my calendar
Organizer
Bonnerfide Inc
Who we are: Bonnerfide Radio is a 24-hour/7 day a week, four-time Stellar nominated, Crystal Mic Media Award and Kingdom Choice Award winning Internet radio station that has raised the bar for the presentation of radio in the marketplace.
What we do: Provide life music that crosses all genres, presenting "Radio the Way It's Supposed to Be" with innovation and creativity.
Why we do it: To provide a balanced musical presentation of the human experience.
Where we do it: Housed at BonnerfideRadio.com, our programs are available on demand via our website, the Bonnerfide Radio app and iTunes podcasts. BonnerfideRadio.com has had over 225,000 visits and over 377,000 page views, with listeners in 50 states and 93 different countries.
When we do it: 24 hours a day, 7 days a week, we offer a variety of exciting programming including: 
The Morning Show. Host: Gerard Bonner (Monday-Friday 9a ET)
LoveLudes. Host: Tre Thomas (Mondays: 9p ET)
Melodic Grooves. Host: Traci Lynne (Tuesdays: 2p ET)
The Remix. Hosts: Kenneth Mosely, V. George Smith, Gerard Bonner (Wednesdays: 9p ET)
UK FIYAH. Hosts: Adam & Matt Brooks (Thursdays: 3p ET/8p GMT)
The Wade-O Radio Show. Host: DJ Wade-O (Fridays & Saturdays: 8p ET/5p PT)
Truth In Love with E. Dewey Smith. Host: Pastor E. Dewey Smith (Sundays: 10:30a ET & 5:30p ET)
On Course with Hart Ramsey. Host: Pastor Hart Ramsey (Sundays: 11:30a ET & 6:30p ET)
Living Life Well with Steve Kelly. Host: Pastor Steve Kelly (Sundays: 12:30a ET & 7:30a ET)
Detailed descriptions of each show can be found on our website.
Radio the way it's supposed to be
Bonnerfide Radio Anniversary Party - "The After Party"