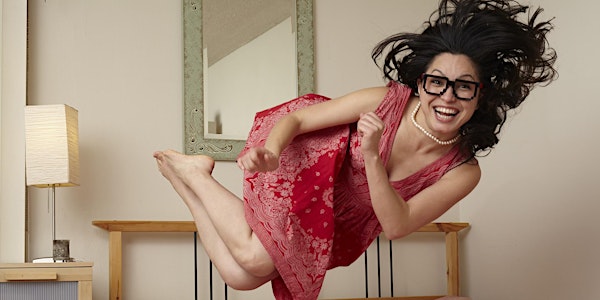 Boning 101: Foundations for Fantastic Sex (7PM LOS ANGELES LOCAL TIME)
Refund Policy
Contact the organizer to request a refund.
Description
It's always good to review the basics. Whether you're a nookie ninja or never been kissed, join this fun intro to the spectrum of pleasure! TOPICS COVERED: Anatomy, reading body language, emotional & physical safety, communication games, foreplay essentials, lubrication lowdown, plus hand and hip pleasuring techniques.
FAQs
How long is the class?
The workshop is 1 hour long and Sex Nerd Sandra will stick around for questions and chat discussion for about 15 minutes after class.
How do I access the workshop?
After you purchase your ticket on Eventbrite, you should receive a confirmation email from Eventbrite that includes your link to join in at class time.
Will these classes be viable/listenable/archived to enjoy later?
Not at this time. Round One of Sex Nerd Sandra's online classes are designed to be tailored to the interests of the viewers tuning in for each unique class.
Is there an age limit to enter the event?
Yes. You must be 18 years or older to attend.
What can/can't I bring to the event?
You can bring all your friends, follow up questions and a notepad. You are NOT invited to record the workshop. Please respect this request. These workshops are meant to be unique, live events for those who attend.
How do I find out about future Sex Nerd Sandra workshops?
All scheduled classes and ticket links of this first round of online classes are at sexnerdsandra.com, along with postings on the @SexNerdSandra Twitter, Instagram and Facebook page.
Why are these classes so cheap?
Sex Nerd Sandra is focusing on making her sex-positive work accessible and affordable to people globally. If you would like to further support her work, your much appreciated donation can be made to sexnerdsandra@gmail via Paypal.
Why are you teaching each class 3 times!?
Sex Nerds are everywhere! Sign up for whichever class time is most convenient for you. Each class is taught live 3 times, at 7pm Wednesday, first on Sydney local time, then London local time and finally Los Angeles.
(Yes, that means Sandra will be teaching at 12am, 11am and 7pm her local Hollywood time every Wednesday.)
Will there be boobs and stuff?
Nope! No nudity. This is a sex-positive, lighthearted, comedy-leaning informational workshop. Sandra is an educator, professional sex nerd and podcast host. Though she may use teaching aids and diagrams to illustrate her points, the aim is to empower you to explore pleasure in your own life.
Will people be able to see me? Will this be anonymous?
No one can see or hear you, but they may see your name in the chat window. IF YOU WOULD LIKE YOUR NAME TO BE ANONYMOUS: When you click on the link to log into Zoom Webinar app, you can fill in an alternate online handle instead of your real name.