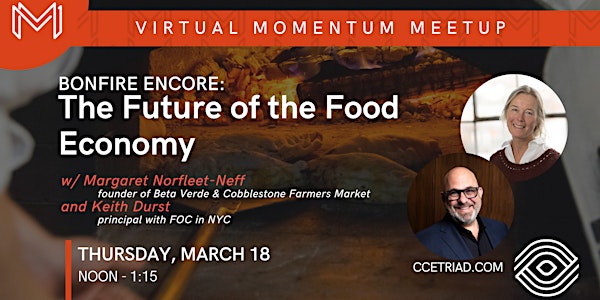 Bonfire Encore: The Future of the Food Economy
Join CCE, Margaret Norfleet-Neff of Beta Verde and Cobblestone Farmers Market, and Keith Durst of FOC in NYC for a 'delicious' conversation.
About this event
March brings so much to the table and this month's meet-up is all about FOOD!
Margaret Norfleet-Neff, founder of Beta Verde and Cobblestone Farmers Market, sits down with Keith Durst, principal with FOC in New York, for a delicious conversation about The Future of the Food Economy in Winston.
We are honored to have these 'seasoned' creatives discuss the food economy in Winston Salem and beyond next week! Both hospitality creatives have long-term investments in the local economy and will focus the conversation on the development of the DTWS restaurant scene, boosting foodie tourism dollars and Winston Salem's potential to stand out as a uniquely sustainable food destination.
FOC provides guidance and support for best in class Developers, Hospitality Professionals, Restaurateurs, Retailers and Hoteliers to create additional value, activate property, retain and attract tenants and create destination-worthy experiences.
The Cobblestone Farmers Market is dedicated to significantly increasing equitable access to local, sustainably grown food in Winston-Salem, NC and growing our regional food economy by creating and nurturing diverse, thriving marketplaces.
In 2020, The Center for Creative Economy launched the Momentum Bonfire Encores series as a response to the Beta Bonfires hosted by IdeasCity WS and Wake Forest University. The bonfires feature creative entrepreneurs and their engagement with the world as an editable landscape ripe for intervention.
Secure your spot NOW and get ready for some sweet surprises at this months Momentum!