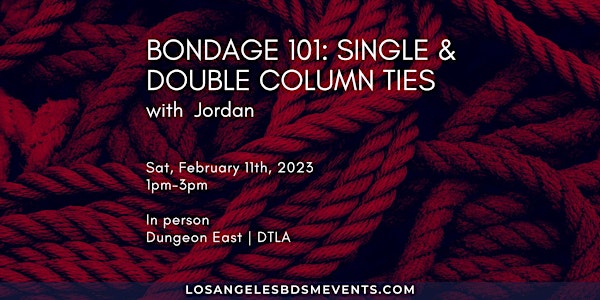 Bondage 101: Single & Double Column Ties
Learn the basics of rope bondage in this introductory workshop at Dungeon East, LA's premier BDSM studio.
When and where
Location
Dungeon East Dungeon East - DTLA - address will be e-mailed day of event LOS ANGELES, CA 90021
About this event
In this beginner rope bondage class, we'll go over three essential ties, including the single and double column tie and an easy quick tie, a quick release, and build confidence to flow with rope. Whether you are into pickup play or looking for ways to spice it up in the bedroom, by the end of class you will have a lot more confidence and flair with the ability to tie safely, creatively and comfortably.
This class is open to all levels of rope enthusiasts and geared especially for newbies or those looking for a refresher. There will be time for practice and Q & A, and access to the custom furniture in the studio.
We'll cover:
Single and double column ties and basic knots
Safety and awareness
Basic rope negotiation
Rope management and flow
What to bring:
Wear cmfortable clothing to move in
Any type of rope (cotton, hemp, or jute)
Recommended lengths of 12' -30' long and 6mm diameter
A yoga mat for floor practice - we also have chairs
EMT safety scissors or safe cutting tool
About Jordan
Jordan (she/her) is a queer lifestyle Domme and instructor with over 20 years in the community. She leads the skills workshops in flogging, rope, and singletail and originated the online BDSMeditation Journey during the pandemic. Her newest offering, Sunday Soundbath at the Dungeon is a monthly immersive experience with sound for relaxation and healing. All of her healing arts services are also available privately for the LGBTQ+ and kink community. You can find her at the BDSFemme and Deviant Parties in Los Angeles, with her partner Justine Cross. IG: @jordanwolancht
COVID 2023 Policy
1. Everyone must be fully vaccinated
2. Masks encouraged but not required
3. Full refund up to the day event if you test positive for COVID
Can't make it to class? Many classes have been recorded and can be downloaded on Gumroad
Need more one on one BDSM instruction? Book private consult with Justine Cross
**Address will be sent out on the day of the event to the email you registered with. 1 ticket per purchase, and each person must register with their own email and name.**