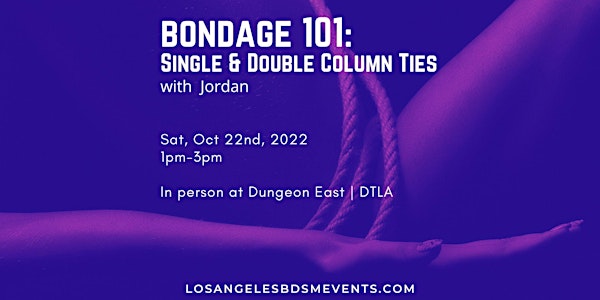 Bondage 101: Single & Double Column Ties
Learn the basics of rope bondage in this introductory workshop at Dungeon East, LA's premier BDSM studio.
When and where
Location
Dungeon East Dungeon East - DTLA - address will be e-mailed day of event LOS ANGELES, CA 90021
About this event
In this beginner rope bondage class, we'll go over three essential ties, including the single and double column tie and an easy quick tie, a quick release, and build confidence to flow with rope. Whether you are into pickup play or looking for ways to spice it up in the bedroom, by the end of class you will have a lot more confidence and flair with the ability to tie safely, creatively and comfortably.
This class is open to all levels of rope enthusiasts and geared especially for newbies or those looking for a refresher. There will be time for practice and Q & A, and access to the custom furniture in the studio.
We will cover:
Single and Double Column Ties and basic knots
Safety and Awareness
Basic Rope Negotiation
Rope Management and Flow
What to bring:
Any type of rope - cotton, hemp, or jute
Recommended in lengths of 12' -30' long and 6mm diameter
A yoga/exercise mat for floor practice - we also have chairs
EMT safety scissors or safe cutting tool
Wear comfortable clothing
Need Rope?
Use promo code at Stockroom.com: JUSTINE15 for 15% off
Home Depot cotton clothesline
About the Presenter
Jordan (she/her) is a queer lifestyle Domme with over 20 years in the BDSM/kink community. She leads the skills classes in flogging and bondage. You can find her at the BDSFemme and Deviant parties in Los Angeles, with her partner Justine Cross.
As a healing arts facilitator she originated the online BDSMeditation Journey, and now leads Breathe Deep Sound Meditation, a monthly immersive sound healing experience at Dungeon East. As a hypnotherapist and transformational coach she specializes in working with members of the LGBQ+, trans and non-binary, kink, sex positive, and adult industry communities as well as those in non-traditional relationships.
COVID Policy
1. Everyone must be fully vaccinated and show proof at the door. No exceptions!
Get the digital version and keep it in your apple wallet here: https://myvaccinerecord.cdph.ca.gov/
2. Temp check at entry.
3. Hand sanitizer at entry.
4. Masks required.
5. Full refunds up to the day of the event if you have tested positive for COVID.
**Address will be sent out on the day of the event to the email you registered with. 1 ticket per purchase, and each person must register with their own email and name.**