Bond with the Divine

Sunday, April 13, 2014 from 2:00 PM to 7:30 PM (CDT)
Event Details
"Bond with the Divine"
Special Spiritual Deepening with Rev. Dr. Michael Milner  
Join Awakened Oneness Meditator, Advanced Oneness Trainer, & Tao Priest Rev. Dr. Michael Milner for a day flooded in Divine Grace. You will experience a SACRED "Bond with the Divine" process, the Heart Lotus Meditation & and a very special Deeksha which Oneness University initiates only Advanced Oneness Trainers to offer. It will accelerate your awakening, transformation, and bond with your Divine. Experience a beautiful day of Deepening which includes contemplation, movement, meditation and powerful blessings.
SUNDAY, April 13 ~ 2:00pm–7:30PM   
COST: $64 until April 12/$90 at the door.
No One Turned Away due to lack of funds. If you would like a reduced rate that you are able to afford as an alternative contact Biana directly.
Have Questions? Contact Biana at 847.924.1440 or biana@onenesscenterchicago.org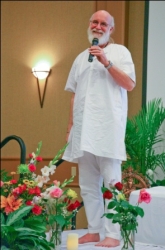 Rev. Dr. Michael Milner, PhD, ThD, DMin
Inter-Faith Minister
Oneness Meditator
Certified Advanced Oneness Trainer
Rev. Dr. Michael Milner, PhD, Inter-Faith Minister, embodies two very different spiritual priesthoods: Taoist and Christian. 

Ordained as a Taoist Priest more than 40 years ago, Michael was trained as a youth in meditation, qigong, internal alchemy, energy healing and internal martial arts by a Chinese Taoist Grand Master. As a Taoist Priest he continues to teach the Taoist Arts and remains rooted in this beautiful ancient tradition. 

Ordained as a Christian minister more than 30 years ago, Michael was was first a Protestant, then a Catholic Franciscan, later a Free Catholic Priest & Bishop. With 25 years experience as a senior pastor, 3 doctorates, including a PhD in Pastoral Counseling, he has served as a missionary, seminary chancellor, co-founder of the International Free Catholic Communion, and is a federally certified Domestic Violence Counselor & Trainer. Michael is also a proponent of Centering Prayer, a form of contemplative prayer or Christian meditation rooted in the mystical Christian tradition handed down by the ancient desert monks. 
  
Over the years Michael has spent time with masters, adepts, shamans, healers and teachers from many traditions and has received numerous transmissions and initiations including: Tao Dan Pai Nui Gung, Siddha Yoga Shaktipat, Kriya Yoga, Kundalini Yoga, Tantric Yoga, Tibetan Kagyu Buddhist Initiation, Theravada Buddhist, Transcendental Meditation, Christian Charismatic, Orthodox Catholic Holy Orders, 3rd Degree Usui Reiki, Oneness Deeksha and others. 

For 40 years, Michael has served as a Guide, Counselor and Healer for those undergoing processes of spiritual transformation. Drawing on his diverse background, he helps people from many paths flow with the effects of the awakening process. 

Michael is a Oneness Meditator, Awakened Advanced Oneness Trainer & Oneness Deeksha Giver (also known as Oneness Blessing). Deeksha is a direct transfer of Divine Grace which brings about the flowering of the heart, opens the door to higher states of consciousness & initiates a neurobiological shift in the brain leading to permanent awakening into Oneness with the Divine & with all of existence. Michael is a graduate of the 21 Day Process, three 10 Day Deepenings, the Level 2 Course, the 2008 Oneness Trainers Course, the 2010 Trainers Deepening and two 28 Day Deepenings at the Oneness University in India under the guidance of Sri Amma and Sri Bhagavan. He dedicates himself full-time to the awakening of humanity, giving Oneness Deeksha, holding weekly Satsangs, building up spiritual communities, counseling, healing, teaching workshops & Oneness courses & initiating Deeksha Givers. Michael is webmaster of www.onenessflorida.org and, with his wife Suzanne, co-directs Flowering Heart Center for Awakening & Wholeness in Clearwater, Florida (www.floweringheart.org). 

Michael has given talks on the Oneness phenomenon, shared Deeksha and led Oneness processes at many Unity & New Thought Churches throughout North America, including Unity Houston, Unity on the Bay Miami, Unity Wash. DC, First Unity St. Petersburg, New Thought Unity Center Cincinnati, Unity Chicago and Unity Myrtle Beach.
WATCH VIDEO OF MICHAEL'S JOURNEY INTO ONENESS: http://www.onenessmovementflorida.org/MichaelMilnerOnenessJourney.htm
When & Where

Bodhi Spiritual Center
2748-50 N Magnolia Ave
Sanctuary
Chicago, IL 60614


Sunday, April 13, 2014 from 2:00 PM to 7:30 PM (CDT)
Add to my calendar