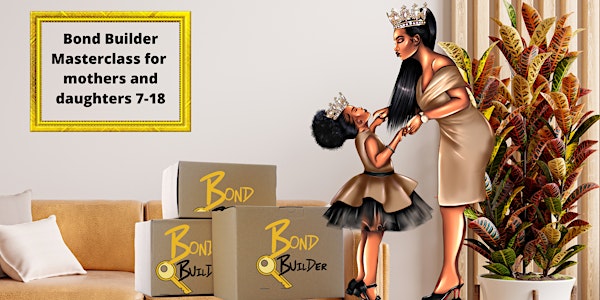 Bond Builder Introduction Masterclass for Mothers & Daughters
The online workshop for mothers and daughters to truly BOND through our Bond Builder Program. Breaking Generational Curses Together!
About this event
No more excuses saying there's no book when it comes to raising your daughters. No more feeling like your alone when it comes to your parenting style. No more feeling like you can't talk to your mom because Bond Builder is finally here.
I know you may be thinking not another online course but this one is here to CHANGE LIVES and I have helped empower many girls in workshops and one thing was constantly a reoccurring comment or conversation. My mom doesn't understand. I can't talk to my mom about anything. My mom doesn't love me, or she is just so strict. Then there are the common conversations from mothers that sound like, my daughter is driving me crazy, I don't know what to do and so much more.
I remember me and my girls feeling like our moms are just too strict.
I still remember the moment my daughter and realized our bond was solid and there were many things that I did not introduce in my parenting style even though they were what I knew from my own childhood.
I remember searching for ways to be an awesome mother that my daughter would love, respect and follow but it wasn't until my daughter had the courage to tell me despite how awesome I am that I wasn't her role model. I knew right then and there I had truly empowered her to speak her truth no matter whose feelings it might hurt, and that strength came from years of us building our bond.
I remember talking to other moms and feeling like I was doing it all wrong.
And then it hit me, and it was I can't just empower girls without including their most trusted ally their mom.
I felt like am I good enough to deliver this content to women and girls even though my masters aren't in counseling and then I learned the difference between resources and recovery. My only goal is to provide resources to help empower girls and women where there seemed to be a gap in access to this type of content. Books are great but building an online interactive opportunity just felt right.
I started with small girl groups and now I'm on many stages helping empower girls to be the best version of themselves but realized I can't possibly be everywhere.
Bond Builder is a series of masterclasses that help strengthen one of the most important bonds a mother and daughter could have. Through a series of relatable, real, and refreshing content both mothers and daughters will leave empowered to not only create stronger bonds, but they will be excited to pass down the foundation to next generations. Workshops are for all types of mother figures and daughter figures as well. We recognize that blood doesn't always determine the roles that people play in your life. Girls for this group should be at least 7-18 for the online experience to be impactful. Girls of all ages will be welcome to our summer Bond Builder Program.
If you are a new mom and are looking for a class to help you create a positive bond from the start, then you should visit our Early Bond Building series that focuses on proactiveness versus reactiveness as it relates to healthy relationship building.
Bond Builder is the only course at this time that covers that addresses generational curses, emotional intelligence, communication skills, collaborative conversations, dating & friendships, healthy boundaries and last but not least letting her lead.
The activities are interactive and were designed to not solve problems but help you identify areas of improvement that can help develop a stronger bond that will result in a healthier and more confident young woman and empower mothers with effective skills to raise the Queens every girl was meant to be.
At Bond Builder, we now understand the importance of having an unbreakable bond between mothers and daughters because this is the first relationship that helps define womanhood to your daughter and the first relationship that helps define motherhood to mothers. We have all said it before there is no book to help provide answers but there is now a masterclass that is here to help provide tools and resources to enhance communication and listening skills as well as understanding how broken bonds impact both girls and womens ability to have a healthy future.
We recognize how cultural differences, expectations and disappointments impact one from seeing the view of others. Our series has been created to be innovative and relatable to help transform many stigmas as it relates to the roles of mothers and daughters.
Bond Builder will cover the following areas to help in the following:
• What does a healthy bond look and feel like from both perspectives?
• What are the roles of mothers and daughters today?
• Borrowing your shoes doesn't mean keeping them.
• Can mothers and daughters be friends?
• Identify the core of broken bonds to discover healing
• Influence of friends for both moms and daughters
• Social Media Myths
• Emotional Intelligence
• Girls and Sexuality
• Group Activities (mother & daughter)
• Group Activities (mothers only)
• Group Activities (daughters only)
We can no longer afford to have unhealthy relationships between mothers and daughters because we are building Queendoms every day and both girls and women have to recognize their worth as it relates to fostering healthy relationships. Our innovative range of topics will not only encourage personal reflection time, life skills, and bonding, but will help change the concept and idea of how mothers and daughters can grow together on their journey.
Full Masterclass Dates Will be announced during this workshop as these partcipants will get the first opportunity to register before seats fill up.