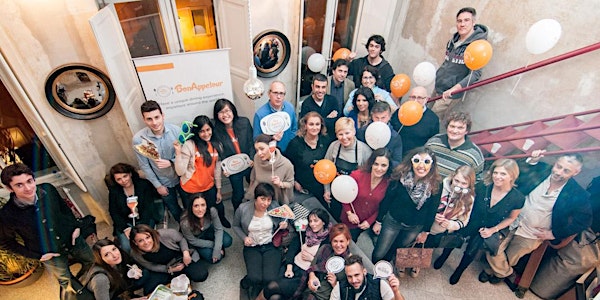 BonAppetour Barcelona Launch Party
When and where
Location
Ma Que Bontà Calle Blesa 32 Barcelona Spain
Description
Queridos amigos de BonAppetour,

En los últimos días, fuimos acogidos en vuestras casas y tuvimos la oportunidad de conoceros en persona. Fue muy gratificante poder daros la bienvenida como nuevos miembros de la Comunidad BonAppetour, pero ahora nos gustaría poder hacerlo de forma oficial en una fiesta de bienvenida especial organizada por BonAppetour. Prepararos para poder compartir vuestras comidas hechas en casa y probar los sabores de los platos de los demás miembros de la comunidad. Hacernos saber lo que vais a traer en: eat@bonappetour.com
Podéis venir acompañados de vuestros amigos y seres queridos. Cuantos más, mejor!
Queridos amigos de BonAppetour,
Gracias por vuestro apoyo incondicional. Ahora estamos iniciándonos oficialmente en Barcelona y nos encantaría invitaros a nuestra fiesta de lanzamiento. Nuestros grandes anfitriones de BonAppetour preparan algunos de sus platos especiales para compartir, sería estupendo si pudierais uniros a la fiesta con nosotros! El Aperitivo y la música empezarán a las 19:30. Será una noche llena de diversión, risas, y por supuesto, comida!
Aquí está el enlace de este evento.
---
Dear BonAppetour hosts,
In the past few days, we have been to your houses and met you in person, and were really happy to welcome YOU onboard to be a part of the BonAppetour Community. We'd like to officially welcome you as a proud BonAppetour host to a special welcome party. We're coming together to create a "potluck". Come ready to share your home-made meals and have a taste of others' within the community. Let us know what you are bringing here: eat@bonappetour.com
Do call your friends and loved ones over as well. The more the merrier!
Dear friends of BonAppetour,
Thank you for your continuous support thus far. We are now officially launching in Barcelona and would love to invite you to our Launch Party. Our talented BonAppetour hosts will be preparing some of their special dishes to share, would be great if you could join in the fun and feast along with us!
Aperitif and music begin at 7.30pm. It will be an evening full of fun, laughter, and of course, food!