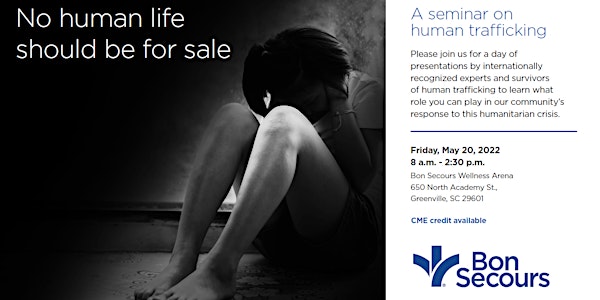 Bon Secours St. Francis 4th Annual Human Trafficking Seminar
Bon Secours St. Francis Health System's 4th Annual Seminar on Human Trafficking
By Bon Secours St. Francis Health System
Date and time
Friday, May 20, 2022 · 8am - 2:30pm EDT
Location
Bon Secours Wellness Arena 650 North Academy Street Greenville, SC 29601
About this event
Bon Secours St. Francis Health System Proudly Presents
No Human Life Should Be For Sale:
A Seminar on Human Trafficking
Pope Francis referred to human trafficking as an "open wound on the body of contemporary society." It is a serious affront to human dignity, preying upon the most vulnerable and further dehumanizing them through exploitation. Join Bon Secours St. Francis Health System for a day of presentations by internationally recognized experts and survivors of human trafficking to learn what role you can play in our community's response to this humanitarian crisis.
This seminar is a multidisciplinary event open to all who seek to make our community and world a better place for God's people. It is intended to educate and increase awareness of human trafficking, highlight the necessity of community collaboration, and give hope to those being victimized and exploited.
The event is free to attend, but registration is required.
Doors open at 7:00; seminar begins at 8:00 a.m.
Free CME/CEU/CLE credit available
AGENDA:
8:00-8:25
Welcome: Matt Caldwell - Market President, Bon Secours St. Francis Health System
Prayer: Alex Garvey, PhD - VP Mission, Bon Secours St. Francis Health System
Proclamation: Lillian Flemming - City of Greenville Mayor Pro Tem
Event Moderator: Jane Robelot - WYFF4 News
8:25-9:00
Opening Remarks: Alan Wilson, JD - Attorney General, State of South Carolina
9:00-10:00
Human Trafficking: A Pathway from Victim to Survivor to Thriver - The Honorable Robert Lung, JD- Judge, 18th Judicial District of Colorado
10:00-11:00
Coercion Through "Choice": The Illusion of Choice in Prostitution - Beth Messick - Executive Director, Jasmine Road
11:00-11:55
Health and Human Trafficking: A Human Rights Law Approach - Roza Pati, JD, LL.M, JSD - Professor, St. Thomas University College of Law
11:55-12:30 - Lunch
12:30-1:30
Human Trafficking is a Public Health Issue - Hanni Stoklosa, MD, MPH - Founder and CEO, HEAL Trafficking"
1:30-2:20
Human Trafficking: Modern Day Slavery - Evelyn Chumbow - Operations Manager & Survivor Advocate, The Human Trafficking Legal Center
2:20-2:30
Closing Remarks - Alex Garvey, PhD - VP Mission, Bon Secours St. Francis Health System
Featured Speakers:
The Honorable Robert R. Lung - Judge Lung currently serves as a District Court Judge in Colorado. He also provides presentations nationally and internationally on issues such as human trafficking, childhood trauma, and resiliency. Judge Lung lectured at St. Thomas University College of Law in 2021 on Human Rights Lawyering. He also previously served as the Chair of the U.S. Advisory Council on Human Trafficking and as a member of the National Advisory Committee on the Sex Trafficking of Children and Youth in the United States. Additionally, Judge Lung provides consultation to several different Federal agencies, Shared Hope International, and the National Center for Missing and Exploited Children. In his "free time" Judge Lung works on writing his first book, a biography about hope and resiliency, and he endeavors to keep up with his two adopted sons in hiking and downhill mountain biking.
Hanni Stoklosa, MD, MPH - Dr. Stoklosa is the Founding CEO of HEAL Trafficking, an emergency physician at Brigham and Women's Hospital with appointments at Harvard medical School and the Harvard Humanitarian Initiative. Dr. Stoklosa is an internationally recognized expert, advocate, researcher, and speaker on the wellbeing of trafficking survivors in the U.S. and internationally through a public health lens. She has advised several Federal agencies and NGOs on issues of human trafficking and testified as an expert witness multiple times before the U.S. Congress. Moreover, she has conducted research on trafficking and persons facing the most significant social, economic, and health challenges in a dozen countries Worldwide. Dr. Stoklosa published the first textbook addressing the public health response to trafficking, "Human Trafficking is a Public Health Issue: A Paradigm Expansion in the United States."
Evelyn Chumbow - Evelyn is a survivor of child labor trafficking turned anti-trafficking activist and public speaker who focuses her life's work on ending modern-day slavery. Today, Ms. Chumbow works tirelessly to raise awareness in communities to create employment opportunities for trafficking survivors. She currently serves as Operations manager and Survivor Advocate for the Human Trafficking Legal Center. She has been invited to brief government agencies about human trafficking from a survivor's perspective, including the Department of Homeland Security, the FBI, the State Department, and the Department of Justice, and was appointed by President Obama to serve on the U.S. Advisory Council on Human Trafficking.
Roza Pati, LL.M, JD, Dr. iur. - Dr. Pati is Professor of Law at St. Thomas University College of Law, Executive Director of the Master of Laws and the Doctorate of the Science of Law in Intercultural Human Rights, and the Founding Director of the John J. Brunetti Human Trafficking Academy. She is a prolific scholar in the field of international law, human rights, human trafficking law and policy, and international criminal law. A globally published author in multiple languages, she offers expert presentations at academic, governmental, and inter-governmental institutions around the world. She was a Member of Parliament and a Cabinet Member, Secretary of State for Youth and Women, in Albania. In 2012, Dr. Pati was appointed by Pope Benedict XVI to serve as Member of the Pontifical Council for Justice and Peace, and in 2020 Pope Francis appointed her to serve as Member of the Dicastery for Promoting Integral Human Development. Dr. Pati is the recipient of several awards including the inaugural Gillen-Massey Award.
Beth Messick - Beth serves as Executive Director of Jasmine Road, South Carolina's first residential program for adult female survivors of trafficking, prostitution, and addiction. Her passion for bringing hope and healing to forgotten and underserved populations has been the focus of her career. Prior to launching Jasmine Road in 2018, Beth was as a Restoration Advocate for Triune Mercy Center where she worked in local jails and with the criminal justice system advocating for survivors of human trafficking and sexual exploitation. She has also served in an advisory capacity for local, state, and federal law enforcement, assisting in the identification of human trafficking victims and in the development of restorative justice solutions.
FAQs
Where do I park the event?
The closest parking garage to the Bon Secours Wellness Arena is the Church Street Garage.
What can I bring into the event?
The Bon Secours Wellness Arena has a clear bag policy that will be enforced for this event. For more information, visit https://www.bonsecoursarena.com/guest-services/clearbagpolicy
What COVID-19 precautions are in place?
Per the recommendation of the CDC it is recommended to wear a mask indoors in public and maintain a 6-foot distance between yourself and other people. For more information on the Bon Secours Wellness Arena's safety precautions, visit https://www.bonsecoursarena.com/guest-services/covidsafetyguide
Will food and drinks be available during this event?
Concession stands inside the Bon Secours Wellness Arena will be open with food and drink available for purchase.
Which entrance do I use?
Please enter the arena through the Furman Entrance.
About the organizer
At Bon Secours St. Francis Health System, our mission as a community of caregivers is to bring compassion to health care and to be good help to those in need. Our facilities include St. Francis Downtown, St. Francis Eastside & St. Francis Millennium.