About this Event
TICKET SAVINGS ALERT
Member Ticket: $10 ($2 Discount)
Non-Member Ticket : $12
READ THIS INDIE MEME MEMBERS!
For Indie Meme Members who have renewed for 2020 - To avail your member discount (You get $2.00 off each ticket! Yay!) please make sure you enter your membership email address (the one you used to sign up with us) in the PROMO CODE section. See the image above.
To become a member go here!
Don't forget our discounted Festival badges are out right now for a limited time. https://www.indiememe.org/imff-2020
So much goodness! And the year has only begun! See you all on the 30th.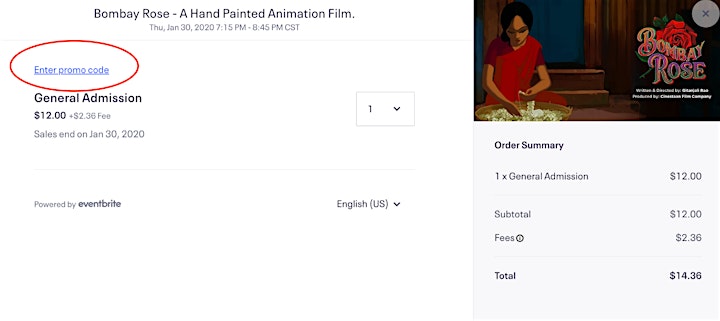 BOMBAY ROSE
Indie Meme is excited to bring their first screening of 2020 to DFW! Gitanjali Rao's frame by frame hand painted animated BOMBAY ROSE is a romance set in MumbaI. It is about two immigrants, Kamala who is Hindu and Salim who is Muslim with fantastical epic Bollywood inspired sequences, a nuanced intimate love story and a gorgeous animated style.
MEMBER GUIDE : How to Access Member Discounts
Ensure you have renewed your IndieMeme membership for 2020 - if not renew at https://www.joinit.org/o/indiememe
Check the email you used to renew your membership with us - you would have received newsletters from us on this email.
On this Eventbrite page, click the green "Tickets" button on the right of the event image.
In the pop-up modal, click "Enter promo code"
Your promo code is the email address of your Indie Meme membership!