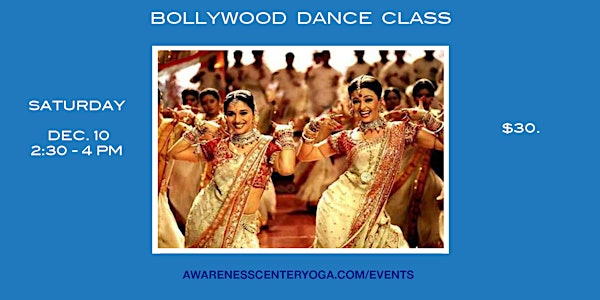 Bollywood Dance Class
A Day of JOYFUL Dance...
When and where
Location
theAC Awareness Center 2801 East Foothill Boulevard Pasadena, CA 91107
Refund Policy
Contact the organizer to request a refund.
Eventbrite's fee is nonrefundable.
About this event
20 days 1 hour

Mobile eTicket
Bollywood Dance is a collective of dance forms from both Ancient and contemporary Indian Culture.
This workshop will explore integrate a range of Indian dance styles, along with some yoga postures for warm ups and cool downs.. The dance forms draw from a variety of Indian Dance styles- Bhangra, Baratnatyam, Garba, Kathak and contemporary Bollywood, along with some hip -hop, ballet and yoga to create an inspired joy filled workshop
Yoga takes pressure off of the joints, decompresses the spine, and restores a sense of openness in the body. This combination of East Indian dance and yoga creates a balance of strength, core development, skeletal alignment, deep breathing and increased lung capacity. The dance moves will help sculpt, strengthen and tone your entire body - even targeting those stubborn areas! The yoga stretches help prevent injury and support maintaining that long, lean feel and look. You will feel your joy expand, your confidence soar and your kundalini rise as you power up and on with this yoga dance masala! Strengthen your core, tone your whole body and lengthen your connective tissues while rocking the dance floor!
Warm ups & cool downs added for a complete session.
The moves will be clearly explained, and a range of modifications offered to support those students with injuries or who require a gentler approach.
Come join in for a delightful day of dance!
Get a great workout and celebrate you!!!
See you on the dance floor!
NAMASTE/ SAT NAM-
Kenwa
*All levels welcome.
**BRING SNEAKERS IN CASE WE DANCE OUTSIDE IN THE BACK.
Testimonials:
" I've had back issues for ages and am cautious about the workouts I do while still remaining at the top of my athletic game. This class fits the bill! Kenwa's fitness knowledge is endless and she guided each of us on our individual goals while making the class flow. I feel like I get a personal trainer each session along with the great class vibe she creates. Awesome hour spent! " - Benny A, West LA
" I smiled the whole class time! What a joyous workout! I had no idea Bollywood packed such a workout and would bring me so much joy at the same time. The moves were easy enough to learn with Kenwa's guidance. She makes it fun and challenging for those who want to kick it up with extra flair in their moves or keep it basic and still get great cardio and muscle exercise." - C.C. Bourgeois, Charleston SC
" I was fortunate to study Bollywood Dance with Kenwa at In The Mudra Yoga, in Los Angeles. Kenwa is an inspired and inspiring teacher of dance, who creates classes that are filled with joyful sacred movement and authenticity, imbued with her deep knowledge, passion and love of all things Bollywood and beyond. I learned so much and had so much fun! Many blessings to you, Sonika Bollywood. <3 " - Betsy Ryerson, Toronto Canada
Kenwa's Bio:
"The Mighty WA" as some colleagues dubbed her long ago.
Dr. Kenwa Lee Newell is a professional dancer & dance choreographer of many decades- specializing in East Indian Dance forms.
She integrates Bollywood, Bhangra and Garba, along with some Baratanatyam, Kathak, ballet , hip hop and yoga to create her own signature style.
She has danced, choreographed, performed and toured in several East Indian dance companies. She has taught Indian dance for dance studios, theatre camps, in opera and theatre productions and more. She also teaches family friendly hip hop, some ballroom, and theatrical character dance.
She is also a judge for The World Choreography Awards held annually in Beverly Hills.
Part of Kenwa's family lived in Pune, India when she was young, so she grew up with both Indian and Midwest cultures combined:
Mashed potatoes and Aloo Gobi
Christmas and Diwali
Saris and cowboy boots!
The best of both worlds 😁
Kenwa is also a professional fight choreographer of 22 years- specializing in period weapons and sword work. She has choreographed and performed fight scenes in multiple theatre & opera productions, film & tv shows.
Her weapon of choice?
A rapier & dagger! " (That's 2 of her weapons, but well...").
Kenwa is also a classical theatre director, with (of course) Shakespeare as her forte- Directing "Richard III", "A Midsommer Night's Dream" & "Much Ado About Nothing" (the last 2 she restaged in India) amongst her favorites.
Also included is " The Path of the Peaceful Warrior" a play based on a tale from The Ramayana, which she co- directed and choreographed.
Some of her highlighted Shakespearean performance roles include The Nurse in "Romeo & Juliet", Ceres in " The Tempest, The Queen in "Cymbelline", Lewis in " The Life & Death of King John", Blunt & various battlefield soldiers in "Henry IV Part One" and Julia in " Two Gentlemen of Verona."
Other acting hightlights include Medea in Euripides' " Medea", Eve in a staged production of "Paradise Lost", Lucy in the Historical Musical Drama " The Ballad of Black Jack", The Poetic Incarnation of Rumi in "Rumi - Path to Enlightenment", & the Naqqali in " Zal & Rudabeh"-a traveling storyteller, in which she embodies 12 different character roles,
She toured with the prestigious Djanbazian dance & theatre Company for " Rumi"and "Zal & Rudabeh".
She has also worked as a contortionist for several tv shows, including " Liv & Maddie", " Austin & Ally" and "Parks & Recreation"
Kenwa is also a film producer and is co- executive producer of the 2021 feature film " Son of the South" ( executive producer Spike Lee/ co- executive producer Frank Barwah)- A Civil Rights historical biopic, based on the life of Activist Bob Zellner. Now streaming on multiple online platforms! She is currently working on 2 screenplays revolving around East Indian culture.
Kenwa also worked as a recording engineer in various studios, and sang in numerous funk/ R n B bands. She loves playing drums and still misses that old Gretsch kit with the full, warm tone. She loves and enjoys listening to, performing and moving to multiple genres of music. But East Indian music is what continues to call her spirit home, and her feet to dance!!
Kenwa has a background in physics and astronomy, & worked for 8 years as an instructor for NASA/ JPL, with a focus in Archaeoastronomy- the exploration of the connectedness amongst Ancient Monoliths/ Megaliths, ancient civilizations and the stars. She is also author of the upcoming book " Astronomy, Astrology & Ancient Civilizations."
She has attended with great pride the rocket launchings and arrival transmissions of many of her students' missions.
Kenwa grew up in NE Kansas, in a large limestone house built in 1856. The very house where abolitionist John Brown organized the 1st battle on record to fight and end slavery - 5 years before the Civil War began. This and surrounding events compose the subject matter for the historical aforementioned musical " The Ballad of Black Jack."
She is a lifelong plant based athlete who has advocated since childhood for humans to recognize the sentience and ensoulment of each and every animal as an individual, with each animal individual's inherent and fundamental birthright to live a full, free and peaceful life. She has done numerous public speaking engagements on this subject, amongst many others.
She will continue to advocate for, defend and champion them- with her words, her actions and her swords ;-)
Please come join us here at the Awareness Center for a joy filled day of dance !!!
See you on the dance floor-
NAMASTE/SAT NAM