Description

Registration closes at 12:00pm on Wednesday, August 1.
Join Win/Win, 501 Commons, and Asian Counseling and Referral Service for a Day of Practical Workshops about Nonprofit Advocacy Rights and Responsibilities. This is Part 2 of an intensive day-long training series that a crash course for newer nonprofit advocates and a refresher for seasoned veterans. It includes two workshops, as well as interactive activities to apply these concepts to your organization's public policy work.
Please Note

Because this is a more advanced workshop, we strongly recommend you register for Part 1: Worry-Free Lobbying and Nonpartisan Advocacy, the morning workshop, before attending this session if you are new to advocacy work.
Afternoon Sessions

1. Stronger Together: Coalitions and Affiliated 501(c)(3)s and 501(c)(4)s Organizations
Is your 501(c)(3) collaborating with 501(c)(4)s or unions on pushing for public policy change? Does your 501(c)(3) have an affiliated 501(c)(4)? This session explores the different rights, roles and rules for 501(c)(3)s, 501(c)(4)s, and political organizations working together. This workshop will remind you or help you learn:
Rights and responsibilities for collaboration among 501(c)(3)s, 501(c)(4)s, unions, and political organizations;
Best practices for carrying out shared activities, including voter engagement campaigns;
How to allocate costs between c3/c4 for different expenses (shared staff, overhead, shared equipment, etc.); and
Rules about funding and financial transactions between 501(c)(3)s and 501(c)(4)s.
2. Nonprofit Advocacy in Action
After you've learned about (or gotten a refresher on) nonprofit advocacy rights and responsibilities, test your knowledge and have some fun with Bolder Advocacy Jeopardy. Next, we'll dig down into advocacy campaigns you and your colleagues are planning and figure out how the rules apply in real life with Making it Real, Making it Work.
About Alliance for Justice / Bolder Advocacy
Alliance for Justice is a national association of over 100 organizations, representing a broad array of groups committed to progressive values and the creation of an equitable, just, and free society.

AFJ's Bolder Advocacy is the leading expert on the legal framework for nonprofit advocacy efforts, providing definitive information, resources, and technical assistance that encourages organizations and their funding partners to fully exercise their rights to be active participants in the democratic process.

By decoding and demystifying advocacy rules, Bolder Advocacy gives nonprofits and foundations the confidence to assertively advocate for community change.
About Toren Lewis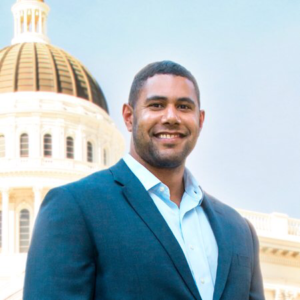 Toren received his J.D. from UC Davis School of Law and a bachelor's degree in International Politics from Georgetown University. Prior to joining AFJ, Toren served as a Commission Counsel in the Legal and Enforcement Divisions of California's Fair Political Practices Commission (FPPC). Before FPPC, Toren worked for the California State Senate and the Endeavor Group, a boutique firm in Washington, D.C. providing legal and strategic advice primarily to philanthropists and entrepreneurs. Outside of work, Toren is an aspiring watercolorist and casual martial artist. He is a lifelong fan of the German National Soccer Team.
Thank you to the Campion Advocacy Fund for support of this session!


---
Driving Directions and Parking information can be found here.

Want to keep up on other 501 Commons events, trainings, programs, discounts and grant opportunities? Sign up for our newsletter and bookmark Featured Events by 501 Commons and others,
Have questions? Contact 501 Commons by emailing lucinda@501commons.org.