Description

This event is at capacity and we will not be able to accommodate walk-up registrations. We apologize for any inconvenience.
Registration closes 12:00pm on Wednesday, August 1.
Join Win/Win, Asian Counseling and Referral Service (ACRS) and 501 Commons for a jam-packed, high-value day of workshops about nonprofit advocacy rights and responsibilities. This day-long training series works both a crash course for newer nonprofit advocates and a refresher for seasoned veterans. The day includes three workshops - and lunch! - as well as interactive activities to apply these concepts to your organization's public policy work.
You can attend one or both sessions. Register separately for the morning and afternoon sessions.

Morning Sessions

1. Worry-Free Lobbying: Legal Tips for Nonprofits
Now more than ever, your community is relying on you to stand up for them. If you think your 501(c)(3) public charity status prevents you from advocating for new laws and policies, think again! You can legally advocate for public policy and community change at every level of government. After this workshop, you'll have a clear understanding of:
Your 501(c)(3) organization's right to lobby;
What does and doesn't count as lobbying;
Your annual lobbying limit; and
How to make the most of your organization's lobbying power.
2. Nonpartisan Advocacy in Partisan Times
You know your 501(c)(3) organization is supposed to stay nonpartisan, but are you allowed to praise a politician who champions your issues? Can you criticize the policy decisions of someone running for re-election? Although 501(c)(3) organizations cannot support or oppose candidates for public office, you can still engage in public policy activism, as long as you understand the guidelines. This workshop covers the federal tax law rules about nonpartisan activities for 501(c)(3)s, including how to:
Advocate for your organization and your community in a nonpartisan way;

Safely educate the public about the candidates and the issues at stake;

Wisely engage your community in voter registration and get-out-the-vote efforts; and

Weigh the risk factors when creating and sharing public policy communications, especially social media.


Note that these workshops focus on federal regulations that apply to nonprofits rather than regulations specific to Washington State.
3. Lunch and Networking
Continue the conversation with your colleagues over lunch (included in your ticket price).
Working in coalitions or with other C4s or C3's? Register for our afternoon session on Coalitions and Affiliated 501(c)(3)s and 501(c)(4) Organizations.
About Alliance for Justice / Bolder Advocacy
Alliance for Justice is a national association of over 100 organizations, representing a broad array of groups committed to progressive values and the creation of an equitable, just, and free society.
AFJ's Bolder Advocacy is the leading expert on the legal framework for nonprofit advocacy efforts, providing definitive information, resources, and technical assistance that encourages organizations and their funding partners to fully exercise their rights to be active participants in the democratic process.
By decoding and demystifying advocacy rules, Bolder Advocacy gives nonprofits and foundations the confidence to assertively advocate for community change.
About Toren Lewis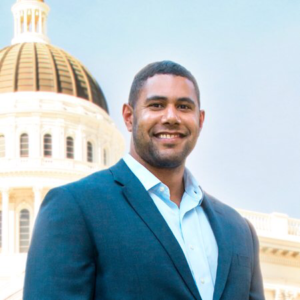 Toren received his J.D. from UC Davis School of Law and a bachelor's degree in International Politics from Georgetown University. Prior to joining AFJ, Toren served as a Commission Counsel in the Legal and Enforcement Divisions of California's Fair Political Practices Commission (FPPC). Before FPPC, Toren worked for the California State Senate and the Endeavor Group, a boutique firm in Washington, D.C. providing legal and strategic advice primarily to philanthropists and entrepreneurs. Outside of work, Toren is an aspiring watercolorist and casual martial artist. He is a lifelong fan of the German National Soccer Team.


Thank you to the Campion Advocacy Fund for support of this session!


---
Driving Directions and Parking information can be found here.

Want to keep up on other 501 Commons events, trainings, programs, discounts and grant opportunities? Sign up for our newsletter and bookmark Featured Events by 501 Commons and others,
Have questions? Contact 501 Commons by emailing lucinda@501commons.org.