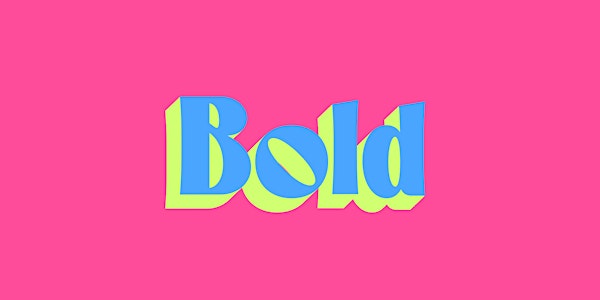 BOLD
Don't be light... ... be BOLD
When and where
Location
Sala polivalente San Salvatore 9 Piazza di Sarzano 16128 Genova Italy
About this event
"Buongiorno, si presenti".
"Ah. Devo parlare di me?"
Guardare al di fuori delle "rosse mura" del nostro Dipartimento e porsi la domanda su come presentarsi al mondo del lavoro, in un mercato sempre più competitivo, quello che ci viene chiesto è: spiccare.
A parlare di noi saranno principalmente gli output che abbiamo prodotto e raccolto in quel portfolio che abbiamo impaginato cercando / layout / su Pinterest o Behance.
Ma dare la propria impronta è certamente difficile, soprattutto quando a riempire quel portfolio sono lavori svolti durante gli anni di studi, che si sa, a guardare i vecchi lavori stringe sempre un po' il cuore.
Quest'anno dal 20 al 30 settembre, DOOPLO, un collettivo di studenti della magistrale in Design del Prodotto e dell'Evento, ha organizzato una serie di 7 incontri in cui verrà affrontato il tema Stand Out nell'evento che prende il nome "don't be light, be BOLD".
Tre serate di Talk anticiperanno altrettante giornate di Hackathon in cui professionisti della grafica, dell'illustrazione, della stampa e dell'animazione digitale e motion graphics si racconteranno e saranno al fianco dei partecipanti degli hackathon per indirizzare a cercare il fattore Stand out.
Inoltre, in collaborazione con BIG_Brief in Genova e UNA Azienda della Comunicazione Unite, i partecipanti avranno la possibilità di confrontarsi, negli spazi di Villa Bombrini, a tu per tu con mentori del settore e porre tutte le domande che li attanagliano, su come affrontare il mondo del lavoro.
Nella serata conclusiva del 30 settembre, gli output verranno esposti nei Giardini di Baltimora, nel nuovo spazio del TAG Genova. La serata è aperta a tutt*.
Ricordati di portare qualcosa su cui stampare, avremo delle postazioni per serigrafare anche li! Che aspetti?
AH, è TUTTO GRATIS! (anzi, ti diamo pure dei CFU!)
Calendario:
ILLUSTRAZIONE
- Martedì 20/09 h. 19:00 - > Talk (250 posti disponibili)
- Mercoledì 21/09 h. 14:30 - 19:00 -> Hackathon (25 posti disponibili)
STAMPA
- Venerdì 23/09 h. 19:00 - > Talk (250 posti disponibili)
- Sabato 24/09 h. 10:00 - 19:00 -> Hackathon (25 posti disponibili)
ANIMAZIONE
- Martedì 27/09 h. 19:00 - > Talk (250 posti disponibili)
- Mercoledì 28/09 h. 14:30 - 19:00 -> Hackathon (25 posti disponibili)
SERATONA
Venerdì 30 settembre dalle ore 19 negli spazi del TAG - Talent Garden Genova in via G. D'Annunzio - Giardini di Baltimora saremo in compagnia di Riccardo Cambò aka Breccia di Caffè Design e finiremo la serata con dj set di Francesco Bacci.
Ricorda di portare qualcosa su cui stamparai in serigrafia il logo BOLD con l'aiuto di Per Inciso - @per_inciso - e la loro bike S-print.
La carta è stata regalata delle fondatrici del progetto Scarta - @scarta_craftedbeerpaper - ed è fatta a mano da trebbie, ovvero scarti di produzione di birra, e carta da macero senza impiegare risorse da fonti vergini.
Che fai non vieni?